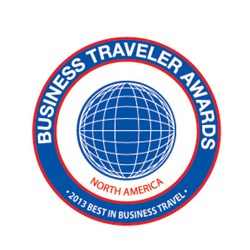 Portland, OR (PRWEB) December 05, 2013
The 2013 votes are in and Business Traveler readers have again selected FlightStats, as the Mobile Travel App of the year. For 25 years, Business Traveler magazine has presented, The Best in Business Travel Awards, which honors over 46 different travel service companies in over 64 different categories for their services, products, and technologies.
FlightStats' free mobile applications provide quick access to global flight status, and airport information. FlightStats' offers a mobile website, Android App, iPad App and iPhone App.
"We are extremely pleased and proud to be awarded the 2013 Best Mobile Travel App, two years in a row, by the readers of Business Traveler," said Tod Hutchinson, CEO of FlightStats.
FlightStats aggregates data from over 300 trusted sources, which include Airlines, Airports, civil aviation authorities and GDS systems to produce real-time flight status information. Over the years, FlightStats has grown to be the trusted data provider, and now has customers in more than 120 countries, including Airlines, Airports, mobile developers, Internet search engines and more.
"As the data source that powers virtually the entire travel industry, we felt confident creating a simple, reliable mobile application for busy business travelers seeking accurate, real-time flight status information and this second award validates that work," continues Hutchinson.
Looking ahead, FlightStats will be introducing a new mobile application in 2014. It is designed specifically for Travel Management Companies or Corporate Travel Departments, who are looking for a GDS-agnostic, independent, and effective branded mobile solution for their customers/travelers. "This mobile application will provide travelers with a very unique trip experience, which engages the TMC throughout the day-of-travel," explains Hutchinson. "Where many existing mobile solutions are designed 'traveler-centric,' our new solution will enhance the role and relevance of the TMC, while providing traveler adoption, visibility and program compliance." The application will ultimately integrate seamlessly with Agent Advantage, an existing trip disruption and alerting solution already offered by FlightStats. Beta of the mobile application is scheduled for January.
In January, FlightStats will be recognized and honored, among the other winners at the annual Best in Business Travel Awards dinner and celebration. For more information on The 2013 Best in Business Travel Awards and a full list of winners, visit Business Traveler.
About FlightStats
FlightStats is a leading provider of day-of-travel data services and applications to the travel industry and traveling public. The company delivers real-time global flight tracking and airport data services that power many of the world's most popular travel applications. The company also provides web and mobile applications to the FlightStats community, helping travelers to better manage their travel day. FlightStats' data is viewed by millions of people each month, and the company is constantly evolving to offer the best worldwide alerting and tracking services to travelers, and the agencies and developers who serve them. For more information visit http://www.flightstats.com or follow us on Twitter @flightstats.
Contact:
Noel Lee
Director of Marketing
Email: nlee(at)flightstats(dot)com
Phone: +1-503-445-4231