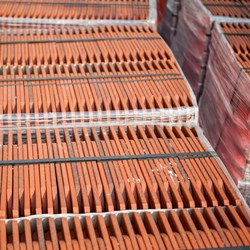 Please be careful during the holiday season to open boxes carefully
Fort Lauderdale, Florida (PRWEB) January 08, 2014
The Fort Lauderdale Products Liability Law Firm of Abramowitz, Pomerantz and Coffey obtained an out of court settlement totaling $1,664,800 in favor of their client in a products liability lawsuit. The case was against the Italian manufacturer, American wholesaler, and retailers of packages of Italian ceramic tile.
As set forth in the Complaint, (Case No. 09-031932 (02) in the Circuit Court of the Seventeenth Judicial Circuit in and for Broward County, Florida) the tile manufacturer allegedly sold tiles in packaging material that was flimsy and defective. A broken piece of tile penetrated the cardboard and lacerated their client's right palm. The woman's hand became infected from the laceration. As a result of the cut and infection, the client required over 35 surgeries to her right hand and forearm. Eventually, she had to have her right ring finger amputated.
According to the complaint, the Plaintiff, who was 39 years old at the time of her injury, worked as a surgical physician's assistant. The injuries to her hand meant she was no longer able to perform her surgical duties. As a result, the plaintiff had to find a less physically demanding job, which pays far less than her previous employment.
In Florida products liability cases manufacturers and sellers are obligated to compensate victims for pain and suffering, loss of past earnings, future loss of earning capacity, lost benefits and past and future medical expenses.
A product liability case can be brought for three possible types of defects: (1) manufacturing defects, (2) design defects and (3) Failure to warn of known dangers. Defective products can cause catastrophic injuries such as spinal cord injuries, brain injuries, amputations, burns, drownings, or wrongful death.
Those who are injured due to products that are defective and unreasonably dangerous may be entitled to compensation. The attorneys of Abramowitz, Pomerantz & Coffey, P.A. have over 100 years of combined experience handling the complex tasks of identifying and demonstrating liability in defective product cases.
About Abramowitz, Pomerantz and Coffey, P.A.
The Lawyers of Abramowitz, Pomerantz and Coffey, P.A., are Florida injury lawyers who specialize in cases dealing with wrongful death, product liability, premises liability, auto accidents, medical malpractice, and any other case where wrongful personal injury was involved. The firm has handled numerous high profile cases and has achieved multimillion dollar settlements and verdicts on behalf of their clients. However no case is too miniscule for review, as your Florida Injury Attorney will do all he or she can to ensure that you get the settlement that you deserve. Click on the link for more information about our Floridainjurylawyers.com.
Our product liability attorneys have extensive experience in investigating safety issues relating to products. Our network of engineers and scientists are able to provide expert opinions about defective design, manufacturing and alternatives. Depending on the circumstances of the case, you or a loved one may be eligible for compensation for pain, suffering, medical expenses, loss of past and future wages, or permanent disability. If you need a Fort Lauderdale Product Liability Lawyer, Abramowitz, Pomerantz and Coffey is the firm to trust.