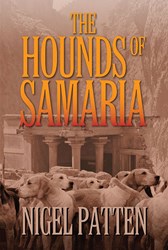 Nous avons tous la capacité potentielle de décrire et d'éprouver des évènements et des lieux qui passent inaperçus par la perception simple
(PRWEB) December 09, 2013
Nigel Patten's second book has just been published in a new French edition. The story creatively jumps from the 20th century to an ancient world and back again, as main character George Ghikas tries to unravel the mystery of his past and present life.
Shortly before WWII erupts, George Ghikas starts having recurring dreams about an unknown dancing girl. Because of his Greek ancestry, the military sends him behind enemy lines on occupied Crete with orders to organize partisan groups in the White Mountains. While George is performing this important work, he has hallucinations of the same dancing girl who has appeared so often in his dreams. Progressively, George is enmeshed in a 3,600-year-old world where it appears he was the victim of a human sacrifice ceremony that took place in a Minoan temple, now restored, located near his current base camp. The girl who has been haunting his dreams is the officiating priestess during the ancient sacrificial ceremony… until the temple is destroyed by an earthquake. Back in the 20th century, George risks death by reenacting the sacrificial ceremony of so long ago…until the temple is once again destroyed, this time by German bombs.
Watch the video at: http://youtu.be/EFdiGhMG97s.
About the Author: Nigel Patten loves words and the music behind them. He teaches English literature for the French Baccalaureate in an international alpine college. Patten grew up in the United Kingdom and later moved to Switzerland. He now lives and writes in a ski resort in the mountains above Lake Geneva.
THE HOUNDS OF SAMARIA (ISBN: 978-1-60911-836-5) and LES MOLOSSES DE SAMARIA: UN ROMAN (ISBN: 978-1-62857-512-5) are available for at http://sbpra.com/NigelPatten or at Amazon, Barnes & Noble and other online retailers.
Strategic Book Publishing and Rights Co, LLC
ABOUT: Strategic Book Publishing and Rights Co, LLC provides book publishing, book marketing, and e-Book services to over 10,000 writers around the world, employing 150 people who live throughout the US and work virtually through telecommunication. Strategic Book Publishing and Rights Co, LLC is experiencing over 30% growth per year, having published approximately 3000 authors with almost 100 new releases per month. Our books are available through Ingram, the largest book distributor in the world, as well as in bookstores, through Amazon, Barnes & Noble and all online channels. Strategic Book Publishing and Rights Co, LLC attends and exhibits at the major book expositions in London, New York, China, and Germany each year.