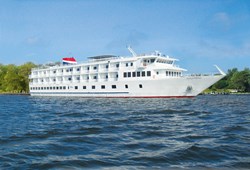 Guilford, CT (PRWEB) December 05, 2013
American Cruise Lines (http://www.americancruiselines.com) – the largest U.S. cruise company – announced today its expansion to the Salt Lake City area with the opening of a brand new sales/reservation center scheduled for mid-January 2014. The newly-added Sandy, Utah location will initially open up more than 35 sales positions. The company is currently hiring for various sales positions, including managers, supervisors and trainers.
Headquartered in Connecticut, American Cruise Lines specializes in upscale river and coastal ship cruises in the United States. It carries passengers from all over the U.S. and around the globe. The line has experienced a high growth rate, adding new ships and itineraries each year, most recently returning overnight cruising to the American Heartland on the Mississippi River and Alaska.
Continued growth and popularity of American Cruise Lines' unique upscale river and coastal ship cruises has led to an immediate need for an additional sales/reservation center. Interested people are encouraged to visit the website to apply or call 203-453-6800. The company offers a complete training program, extraordinary earning potential and a competitive benefits package.
About American Cruise Lines
American Cruise Lines, the largest U.S. cruise company, operates the newest fleet of riverboats and coastal cruise ships on more than 35 itineraries on the East and West Coast, Mississippi River System and Alaska. Long established and deeply experienced in cruise travel, American Cruise Lines has most recently received world-wide recognition as the first to revive paddle wheel river cruising in America. The line is known for working closely with guests and travel agents before, during, and after a cruise to create a highly personalized cruise experience. To learn more about American Cruise Lines, visit http://www.americancruiselines.com or call 800-814-6880. Find us on Facebook at http://www.facebook.com/americancruiselines or follow us on Twitter at http://www.twitter.com/american_cruise.
###