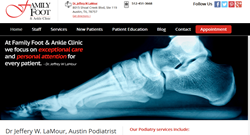 "We are extremely pleased with the way to redesign turned out," said Dr. LaMour.
Austin, Texas (PRWEB) December 20, 2013
Dr. Jeffery W. LaMour of the Family Foot & Ankle Clinic has recently unveiled their newly revamped website, and they are welcoming everyone to check out the improvements. The redesign has created a vastly different aesthetic and user experience compared to the original website. Immediately noticeable is the wide screen layout and clean white background both of which increases the readability.
"We are extremely pleased with the way to redesign turned out," said Dr. LaMour. "The website is first and foremost a resource for our patients to learn about their treatment options and how our clinic can help. The changes we've made from the look and feel to the functionality make that much easier."
The upgrades go beyond the improved layout. The new website also includes a new blog with regularly updated information and a simplified appointment setting tool.
EASY APPOINTMENT MAKING
One of the key features of the new website is the appointment making tool. Patients now have the ability to reach out to the Dr. LaMour's clinic online to request an appointment. Minimal information is needed, and patients can select a preferred day and time for their appointment.
NEW BLOG
Along with the total redesign, the website now has a blog with the latest news and information on both the practice and foot care best practices. Topic categories include:

Diabetic Care
Foot Care
Foot Diseases
Healthy Diet
Heel Pain
Sports Injuries
The LaMour Team
Toenails & Fungus
To see the newly redesigned website, make an appointment and learn more about Dr. LaMour's Clinic, please visit: http://www.drjefflamour.com.
About Family Foot & Ankle Clinic
Austin podiatrist Dr. Jeffery W. LaMour has been helping patients of all ages overcome a wide variety of foot ailments since 1997. At Dr. LaMour's Family Foot & Ankle Clinic he and his team of medical professionals use cutting-edge technology and equipment to perform both surgical and non-surgical procedures to treat sports injuries, ingrown toenails, fungus, heel pain, ankle pain, warts, fractures, arthritis and a variety of other ailments.