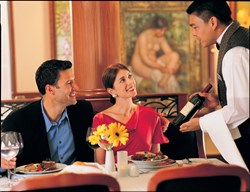 Our partnership with the Michael Mondavi Family will maximize the wine experience for guests on board our ships by bringing a new and unique perspective that will enhance our existing wine offering.
Miami, FL (PRWEB) December 05, 2013
Norwegian Cruise Line announced a new partnership with the world-renowned Michael Mondavi Family to enhance the line's wine selection fleet-wide. Under the direction of third-generation Napa Valley winemaker Michael Mondavi, Norwegian has increased its on-board wine selection to include an incredible variety of wines specially-selected by Michael, together with his son Rob Jr and daughter Dina to showcase the family's rich history. In addition, Michael and family will be working closely with Norwegian to curate wine concepts for its upcoming ships. The all new wine menu will debut on Norwegian Getaway in January and will be rolled out to the remainder of Norwegian's fleet in 2014.
"Our partnership with the Michael Mondavi Family will maximize the wine experience for guests on board our ships by bringing a new and unique perspective that will enhance our existing wine offering," said Kevin Sheehan, Norwegian Cruise Line's CEO. "Working with an established and well-respected family who has a rich heritage of wine-making will ensure that our guests are offered some of the best wines available."
"We only select wines we would proudly serve on our table to family and friends," said Michael Mondavi. "We are thrilled to be working with Norwegian to bring our carefully selected wines to their valued guests and are excited to curate the guests' experiences using our decades of collective experience."
Additional elements of the partnership include a series of short wine tasting videos featuring members of the Michael Mondavi Family that will be shown in staterooms to educate and inform guests. Norwegian's food and beverage staff will undergo intensive training sessions, so that they can confidently provide knowledgeable wine recommendations to guests who are looking for the perfect wine to complement their meal.
Viva Vino, Norwegian's wine packages, offer guests the opportunity to enjoy the new wine offering and save on a variety of high-quality wines, specially selected from the line's enhanced wine list. Viva Vino wine packages allow guests to choose their perfect package whether they are a novice wine drinker or connoisseur. Each Viva Vino package gives guests the option of choosing four, six or eight bottles to enjoy throughout their cruise – in the bar, lounge or restaurant of their choice, or even in the comfort of their stateroom.
To learn more about Norwegian's wine programs, visit http://www.ncl.com. To book a cruise vacation with Norwegian, contact a travel professional, call Norwegian at 866-NCL-CRUISE (625-2784), or visit http://www.ncl.com.
About Norwegian Cruise Line
Norwegian Cruise Line is the innovator in cruise travel with a 47-year history of breaking the boundaries of traditional cruising, most notably with the introduction of Freestyle Cruising which revolutionized the industry by giving guests more freedom and flexibility. Today, Norwegian invites guests to "Cruise Like a Norwegian" on one of 12 purpose-built Freestyle Cruising ships, providing guests the opportunity to enjoy a relaxed, resort style cruise vacation on some of the newest and most contemporary ships at sea. Recently, the line was named "Europe's Leading Cruise Line" for the sixth consecutive year, as well as "Caribbean's Leading Cruise Line" and "World's Leading Large Ship Cruise Line" by the World Travel Awards.
The Company took delivery of its most innovative ship to date, the 4,000-passenger Norwegian Breakaway on April 25, 2013 and was named "Best New Ship" by the editors of Cruise Critic and received six gold Travel Weekly Magellan Awards including the Contemporary, Large Cruise Ship and Pool Design categories. Known as New York's ship, Norwegian Breakaway is the largest vessel to homeport year-round in the city and includes hull art by legendary artist Peter Max; seafood restaurant Ocean Blue by famed New York Iron Chef Geoffrey Zakarian; bakery by Buddy Valastro, star of the TLC series "Cake Boss;" and fitness classes and a retrospective display from the ship's iconic godmothers, the Rockettes®. The entertainment lineup includes three Broadway shows: Rock of Ages, Burn the Floor and Cirque Dreams™ & Dinner: Jungle Fantasy.
Sister ship Norwegian Getaway, currently under construction at Meyer Werft, will be the largest ship to homeport year-round in Miami and will sail Eastern Caribbean voyages beginning in February. The Company also has two larger vessels on order: Norwegian Escape with delivery scheduled in the fall of 2015; and Norwegian Bliss with delivery in the spring of 2017.
The Company's largest ship, the 4,100 passenger Norwegian Epic has been named "Best Overall Cruise Ship" by the readers of Travel Weekly two years in a row and "Best Ship for Sea Days" by Cruise Critic.
Norwegian Cruise Line is the official cruise line of the Miami Dolphins/Sun Life Stadium, Blue Man Group and Legends in Concert; and the official cruise line partner of The GRAMMY Awards and is an official partner of the Rockettes and Radio City Music Hall.
High resolution, downloadable images are available at http://www.ncl.com/pressroom. For further information on Norwegian Cruise Line, visit http://www.ncl.com, follow us on Facebook, Twitter, and Instagram @Norwegiancruiseline, Pin us on Pinterest, watch us on YouTube, or contact us in the U.S. and Canada at 888-NCL-CRUISE (625-2784).
About Michael Mondavi Family Estate – http://www.michaelmondavifamilyestate.com
Located in the heart of the renowned Carneros winemaking region in the southern reaches of Napa Valley, Michael Mondavi Family Estate was founded in 2006 by Michael Mondavi, with wife Isabel, son Rob, and daughter Dina. With more than six decades of combined experience, the winemaking team is led by Rob Mondavi, Jr. together with mentor, and long-time family friend, Tony Coltrin, crafting a collection of world-class wines, under the M by Michael Mondavi, Isabel Mondavi and Emblem labels. In addition, Rob Mondavi Jr also produces wines under the Spellbound and Medusa labels.
For four generations, the Mondavi family has nurtured the land of Napa Valley, with the aim to secure the long term sustainability of the region for generations to come. The Estate is proud to be a Napa Green Certified Winery, continuing to uphold the highest farming standards, working with vineyards farmed using sustainable and organic farming practices. For further information on Michael Mondavi Family, visit http://www.michaelmondavifamilyestate.com, or follow on FaceBook at MichaelMondaviFamilyEstate, Twitter @MMondaviFamily or call +1.707.256.2757
# # #