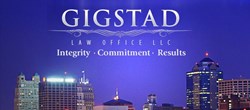 Overland Park, KS (PRWEB) December 05, 2013
Overland Park Criminal Defense Attorney Robert "Chris" Gigstad, of Gigstad Law Office, LLC, has received recognition as one of the nation's top trial lawyers. The attorney has recently been granted membership in The National Trial Lawyers: Top 100 Trial Lawyers. Only litigators who have exhibited the highest qualities in their professional careers are able to become members of this invitation-only group, according to The National Trial Lawyers' website. Attorney Gigstad is an experienced trial attorney who aggressively protects the rights of individuals who are accused of crimes in Overland Park and many other parts of Kansas.
Each year, The National Trial Lawyers looks at each U.S. state and at various highly-populated regions and identifies the Top 100 criminal defense and civil plaintiff trial attorneys in each of those areas, according to the organization's website. These legal professionals are asked to become members of The National Trial Lawyers: Top 100. The selection process is carried out using a blend of peer of nomination and third-party research. The attorneys who are chosen are those who have demonstrated the highest levels of reputation, stature, public profile, influence and leadership. Anyone who becomes a member of The National Trial Lawyers: Top 100 must have his or her membership reviewed each year.
Attorney Gigstad started his criminal defense law firm with the purpose of helping individuals work through the problems they are facing. Through his firm, he helps individuals challenge their criminal charges and fight to preserve their freedom. Mr. Gigstad, who is also known as "The KC DUI Guy," earned his law degree from Washburn University School of Law in Topeka. Before that, he received a bachelor's degree in political science and history from Kansas State University. Today, Attorney Gigstad is a member of various professional organizations, which include the National College for DUI Defense®, the National Association of Criminal Defense Lawyers, the Kansas Association of Criminal Defense Lawyers, the Kansas Association for Justice and a number of other groups.
One of the major areas Attorney Gigstad had focused his practice on is defending clients against charges for alleged driving under the influence, or DUI. He does, however, also handle many other types of criminal cases, such as cases related to traffic offenses, theft crimes, domestic violence, drug crimes and more. Gigstad Law Office offers prospective clients free initial consultations, which gives them the opportunity to get informed about their defense options without any payment obligations. More information about Gigstad Law Office is available at http://www.gigstadlaw.com.