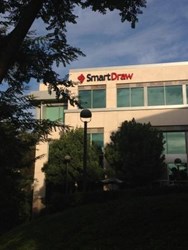 "As we close out our first 20 years, we're more excited than ever about the next 20."
San Diego, California (PRWEB) December 10, 2013
SmartDraw Software celebrates its 20th anniversary this month. Twenty years is a long time, but in the technology world, it's eons.
Consider all of the things we take for granted today that weren't around in 1994. We had no iPods—MP3s didn't even exist. There were no DVDs. Movies on demand? No—we went to Blockbuster and rented VHS tapes. Almost no one had heard of the term "dot-com." There was no eBay or Google or HDTV. Facebook and Twitter were light years away.
But there was SmartDraw. It was originally developed by founder and CEO Paul Stannard as shareware. Users of burgeoning online services CompuServe and AOL could download it for the cost of their connection time (often using dial-up modems). Payment was an honor system; PayPal and other online payment processors weren't around yet.
SmartDraw 1.0 was a simple drag-and-drop program. Stannard says that because businesses were more likely to pay for shareware than consumers, he added support for flowcharts and other business diagrams. The plan worked and SmartDraw became an internet success.
Today, SmartDraw has grown into an internationally distributed product with in excess of 20 million downloads from its website. While it remains an application that runs on the Windows desktop, Stannard has changes already in place for the next generation of SmartDraw users.
"Last year we added the ability of Windows SmartDraw to share files with your phone, tablet and web browser. The next step is fully functional SmartDraw on every device: Windows, Mac, IOS, Android, and any web browser, with full file compatibility across all platforms," Stannard said.
"As we close out our first 20 years, we're more excited than ever about the next 20," says Stannard. "Did I mention that I'm now programming in JavaScript?"