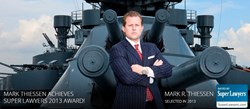 Houston, TX (PRWEB) December 06, 2013
On November 19th of this year, Houston criminal defense attorney Mark Thiessen won his thirteenth not-guilty verdict this year. The client was accused for a DWI in Harris County, Court of Law No. 7, DWI 2nd / State v. L.T., Case # 1873182
The client was a 60 year old Vietnamese man who was pulled over because he failed to maintain a single lane. The video showed that he crossed the shoulder lane once and then touched the lane divider causing the officer to turn on his lights. The client pulled over and was taken off the freeway to perform standard field sobriety tests in the cold, windy weather. The client could barely speak or understand English and was booked with his DWI 2nd.
When called to trial, Thiessen hired a translator for his client to ensure that the communication was clear for the officer and the jury. In the end the officer testified that he could not rule out age, weather, language barrier, nervousness, or injuries as possible excuses for any loss of mental or physical faculties. The officer then read the DIC24 form asking for a sample of his breath so fast that the translator couldn't even start translating. In the end records show that the jury followed the law. They gave him his life back and sent him back home to his family.
About Thiessen Law Firm:
Since Thiessen Law Firm opened its doors in July 2011, the firm has experienced tremendous success. Having already represented hundreds of DWI clients, achieved numerous dismissals and won twenty-one jury trials, Thiessen Law Firm has now expanded to include two associates, two paralegals, a marketing director, a process server and an investigator. Thiessen Law Firm shares the top floor of 1221 Studewood, Houston, with Jed Silverman and Associates and neighbors another lawyer's office downstairs. Additionally, Mark Thiessen has joined forces with attorney Chris Samuelson to create Samuelson Thiessen, L.L.P. which handles cases in Colorado.
To interview Mark Thiessen, contact Media Representative Lauren Levicki with Levicki Network:
By Phone: 832.524.8335
By Email: llevicki(at)gmail(dot)com