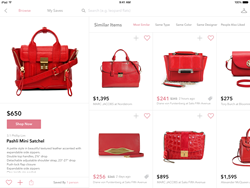 StyleSpotter is instantly familiar - you can dive right in and find exactly what you want.
Santa Monica, CA (PRWEB) December 05, 2013
StyleSpotter, a technology platform designed to make finding fashion easier, today announced the launch of its iPad app, available in the App Store.
The StyleSpotter iPad app enables users to search a database of almost a half a million fashion products from stores like Forever 21, Bloomingdale's and Shopbop. Using a simple and intuitive interface, shoppers can search, compare and filter through thousands of items to find exactly what they're looking for.
"When shopping for fashion, shoppers want to compare options across different stores, and get inspiration for similar or related items," says Michael Quoc, founder and CEO of ZipfWorks, the parent company of StyleSpotter. "We designed StyleSpotter from the ground up to simplify and streamline current shopping behaviors. The app is instantly familiar - you can dive right in and find exactly what you want."
StyleSpotter continuously monitors hundreds of online fashion stores for the latest items and changes in prices. The app also gives access to exclusive coupons and discounts, only available on StyleSpotter. The app provides a single point of reference for shoppers to find the latest items and best prices for any fashion item imaginable.
The app has been developed in partnership with around 100 fashion bloggers, who provided feedback and direction throughout the design process. "I love StyleSpotter because it allows me to shop anywhere, anytime, in a fun, easy and organized way," says Jessica from the popular fashion blog Hapa Time. "The collections are probably my favorite part because they help inspire me for future blog posts."
Partnership opportunities on StyleSpotter are available to select fashion bloggers via the app's Elite program. If interested, please send an inquiry to elite(at)stylespotter(dot)com.
StyleSpotter for iPad is currently available for download for free in the App Store. An online version of the app is also available at http://www.stylespotter.com.
About ZipfWorks
ZipfWorks is a media lab and incubator based in Santa Monica. The company designs, develops and markets connected commerce apps and websites, with the single goal of helping consumers find the products and services they'll love. StyleSpotter is the company's first offering in the fashion space, with additional new services currently in development.