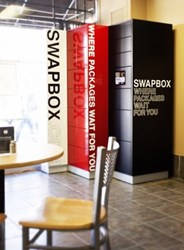 Swapbox has the potential to scale much like Redbox did...
San Francisco, California (PRWEB) December 05, 2013
Swapbox (swapbox.com), the company that eliminates missed deliveries, announced today it has secured $800K in seed funding led by Tony Hsieh's Vegas Tech Fund with additional capital provided by Fuel Capital, Y Combinator founder Trevor Blackwell, Base Ventures, and Ace & Company.
In addition to the new investors, Swapbox is also adding Former President & COO of Redbox, Mitch Lowe, as well as the founder & CEO of SocialCam and Justin.TV, Michael Seibel, as advisors.
"I'm excited about the opportunity to advise the team at Swapbox," said Mitch Lowe, former President & COO of Redbox. "I think Swapbox has the potential to scale much like Redbox did in the low-cost rental market."
Swapbox graduated Y Combinator's Winter 2013 class and is using its investment to scale to additional locations throughout the San Francisco Bay area. Since its launch, Swapbox has introduced 15 kiosks throughout the city and is helping customers to receive their package deliveries where and when they want.
"Swapbox provides a simple, convenient solution that helps busy people avoid missing deliveries," said Neel Murthy, CEO of Swapbox. "With this new round of financing we can bring our services to more customers, in a wider geography, who are missing thousands of packages every day".
Swapbox is offering all of its customers free service through New Year's. For more information on how to ensure you receive all your holiday gifts, visit http://www.swapbox.com
About Swapbox
Swapbox makes and installs a secure, self-serve, electronic kiosk for receiving package deliveries. People shopping online can have their purchases shipped directly into a local swapbox for pick up at a convenient time (Swapboxes are located in various retail shops). Founded by former Stanford, Microsoft & Google engineers, Swapbox is headquartered in San Francisco with a manufacturing facility in Santa Clara.
You can see a map of our locations here:
http://www.swapbox.com/locations