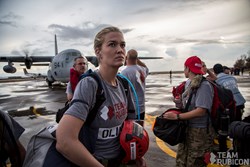 It's easy to think of vets as warriors, but they are also leaders... We have medics, logistics experts, even tech geeks—and they are all driven by a sense of purpose greater than themselves.
Los Angeles (PRWEB) December 05, 2013
As 2013 comes to a close, Team Rubicon, the relatively young disaster relief organization founded by veterans, finds itself uniquely positioned to create a new model for disaster response—at home, and around the world.
Propelled into the year on the laurels of its response to Hurricane Sandy, the nonprofit has doubled in volunteers. These volunteers in turn responded to 19 major disasters, including: tornadoes in Oklahoma and Illinois; flooding in Colorado, New Mexico and Texas; and in its biggest international operation to date, Typhoon Haiyan in the Philippines.
Additionally, the staff outgrew its humble offices in Inglewood, moving into Tishman Speyer's Continental Grand Plaza in El Segundo.
"Sandy was a tipping point for us, as it demonstrated that we were a credible asset during times of disaster, and our name got out there," said Jake Wood, Team Rubicon cofounder and CEO. "With increased support, we've been able to deploy more volunteers and resources to help those who need it the most, and have made a measurable impact in dozens of communities."
For example, Team Rubicon worked on 450-plus homes in Oklahoma, saving homeowners an estimated $3.7 million in recovery costs. Volunteers are currently removing debris and helping tornado survivors in Washington, Ill.
Team Rubicon was also able to deploy 18 volunteers, from multiple states, to the Philippines within 48 hours of Haiyan's landfall. More followed, 86 in all. Volunteers performed search and rescue, medical triage, surgical support, and other relief. More than 2,000 patients were treated or vaccinated during the response, before it transitioned long term medical care to a larger organization.
What sets Team Rubicon apart from other relief organizations is that it combines the skills and experiences of veterans with those of first responders.
"It's easy to think of vets as warriors, but they are also leaders capable of working in small teams, and scaling up as needed," said Wood, who served as a Marine sniper in Iraq. "We have medics, logistics experts, even tech geeks—and they are all driven by a sense of purpose greater than themselves."
Wood, along with fellow Marine William McNulty, formed Team Rubicon in the wake of the earthquake that crippled Haiti, in 2010. They believed it was taking larger relief organizations too long to reach quake victims, and theorized that a small team could be formed that could bridge the gap until full-scale operations were established.
In Haiti, they learned that the organization also served another purpose—it filled the void of service lost after leaving the military.
"The military provides its members with a purpose, an identity, a true sense of community," said Wood. "Team Rubicon helps fulfill that need to serve, that so many veterans seek."
Over the past four years, Team Rubicon has grown to nearly 14,000 volunteers and launched 50 missions to four continents and eleven countries. In 2014, it looks to build on this momentum to not only respond to more crises, but to replicate Team Rubicon in other countries.
"It's easy to forget, but many countries have fought by our side since 9/11," said McNulty, the managing director for TR International. "Veterans from Norway, England, Canada, and Australia have reached out to us about bringing the TR model to their respective country. They talk about the same challenges of veteran reintegration."
At home, Team Rubicon looks to drive volunteer engagement and mission readiness through training. According to Wood, a comprehensive training pipeline has been developed that will enable members to receive everything from the most basic response preparedness training up to becoming Incident Management Team certified.
Much of Team Rubicon's support comes from corporations and foundations, including Home Depot Foundation, Price Waterhouse Cooper, Bob Woodruff Foundation, Clinton Global Initiative, Chadbourne and Parke, LLP, Goal Zero, Goldman Sachs Gives, Hunter Douglas, ISTAT Airlink, Palantir, and Urban America.
However, for Team Rubicon to continue in its growth and capabilities, it will need the increased support of individual donors.
"Disasters aren't going away, and with your help, neither are we," said Wood.
To make an end of the year, tax-deductible contribution, visit http://www.teamrubiconusa.org/donate. An average of 88 cents of every dollar Team Rubicon spends is invested in direct services. Financial transparency is paramount at Team Rubicon. If for any reason within a calendar year you're unhappy with Team Rubicon's work, your contribution will be refunded, no questions asked.
To learn more about Team Rubicon's mission, visit http://www.teamrubiconusa.org.
About Team Rubicon:
Team Rubicon (TR) unites the skills and experience of military veterans with first responders to rapidly deploy emergency response teams. TR offers veterans a chance to continue their service by helping and empowering those afflicted by disasters, and also themselves. For more about Team Rubicon, visit http://www.teamrubiconusa.org.
# # #