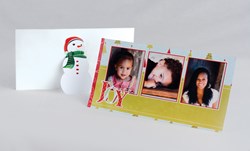 "Families everywhere are discovering this simple, decorative way to organize and display the Holiday photocards that they send and receive each season," said Shawn Bailey. "Prop up your Holidays, with Holiday Props!"
Monarch Beach, CA (PRWEB) December 05, 2013
Holiday photocards are now easy to display as part of holiday décor, thanks to a new product, Holiday Props. The simple solution is designed for everyone who sends or receives personalized photocards for the holidays. Holiday Props are stylish, decorative stands that attach to the back of photo Christmas cards to stand them on display, like a picture frame.
The history behind Holiday Props:
Holiday Props are the brainchild of Shawn Bailey -- a true Mompreneur. She noticed that every holiday season, flat photo Christmas cards become more and more popular. But she was frustrated by the problem of displaying the photo holiday cards she received. The challenge: how to add these cards to a home's display of holiday greetings. "I would stick these beautiful cards to the refrigerator, wedge them on a shelf, or just stack them on the counter," said Shawn. "I knew there had to be a better way, and that is when I came up with Holiday Props! I am excited to bring this product to the market. It is such a simple way to organize your holidays."
Using Holiday Props is very simple:
Small and light enough to be mailed with any photocard sent through the mail, Holiday Props are very simple to use. First, align the bottom of the Holiday Prop with the bottom edge of the photocard. Next, remove the adhesive strip from the back of the Holiday Prop and stick the prop to the back of the photocard. Now the photocard of family or friends can be displayed anywhere in the home, just like a picture frame.
Households across the United States are finding out how this simple device organizes their Holiday Card display. "I used to have my photo Christmas cards lying all over the place, but now all my cards are neatly on display!" says Rebecca of Mission Viejo, California. Not only do Holiday Props organize a Holiday Card display, attaching a Prop to the photocards you send out is a thoughtful way for your friends and family to be able to display your card.
Holiday Props come in three festive styles: the Snowman, the Christmas Tree, and the Candy Cane. They are available in packs of eight and can be purchased on the company website, http://getholidayprops.com. "Families everywhere are discovering this simple, decorative way to organize and display the Holiday photocards that they send and receive each season," said Shawn. "Prop up your Holidays, with Holiday Props!"
About Holiday Props
Holiday Props are the brainchild of founder Shawn Bailey, a Mompreneur from Monarch Beach, CA. Shawn recognized a recurring problem and frustration and created a simple and effective solution that adds value to holiday photocards.
Holiday Props is the flagship product line by parent company ProperWorks, Inc.
New Props are also in production. Holiday Props are available at retail in stationary and postal stores. They may also be purchased online at http://getholidayprops.com