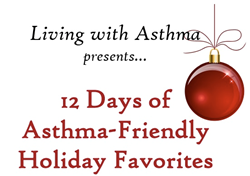 (PRWEB) December 05, 2013
The holidays are here! Jack Frost is nipping at allergy red noses, sleigh bells are ringing (but not as loud as stuffy ears), and instead of dashing through the snow, asthma sufferers are wheezing through the sleet! Not quite the stuff the movies are made of, is it? But never fear, the weather outside may be frightful, but the holidays don't have to be, thanks to LivingWithAsthma.net's free activity book download of "12 Days of Asthma-Friendly Holiday Favorites".
The free book download includes an assortment of mouth-watering and asthma friendly recipes, great tips, and some fun crafts to do with the kids that will help promote a Happy and Asthma-friendly Holiday Season.
Many people don't know that live Christmas trees can actually be asthma triggers for young asthma sufferers. In the book, readers will find a cute crafty "O Christmas Tree" to make with the young ones and bring all that Christmas cheer without the wheezing! And if Hanukkah is the holiday of choice, readers will find a recipe to make their very own beeswax candles to replace those paraffin candles most people use in their Menorah (which actually aggravate asthma as well).
To download the free activity book and find these crafts and so much more, visit http://www.LivingWithAsthma.net or go directly to the sign up at http://ow.ly/r3NNY.
About LivingWithAsthma.net:
LivingWithAsthma.net is a new online community seeking to empower families of children with asthma. It covers topics from one mother to another, including home remedies, practical lifestyle changes that can reduce triggers, medication reviews and more. LivingWithAsthma.net seeks to raise awareness for the disease and create a community forum for mothers to discuss their experiences and triumphs in living with an asthmatic child.
Media contact: Kelley Coughlan, Melrose PR, Kelley(at)melrosepr(dot)com, (310)260-7901, http://www.melrosepr.com.