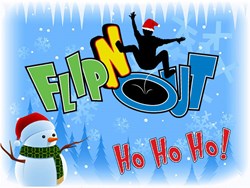 Las Vegas, NV (PRWEB) December 06, 2013
FLIPnOut Fun Center, the area's prime location for trampoline jumping and family fun, announced today that they'll soon be receiving some special visits from the season's most popular character. Santa Claus, red suit, white beard and all, will be greeting children at the trampoline park several days in December, making Las Vegas's favorite fun zone even more appealing to youngsters.
FLIPnOUT has scheduled Santa for six days this month, hoping to give parents and families a variety of options to help their scheduling this Christmas season. And this Santa Claus isn't a Grinch; families are welcome to take their own photos. Plus, FLIPnOUT is providing a custom backdrop to ensure festive photos that will become keepsakes for years to come!
"We're already pros at giving kids and families fun, wholesome and entertaining activities," said Tracy, owner of FLIPnOUT Fun Center. "Having Santa Claus on site to greet children is our way of making the experience more festive and memorable for our Las Vegas families."
Santa will arrive Friday, December 12, at FLIPnOUT Fun Center at 1841 E Craig Road in North Las Vegas. His tentative schedule is as follows:
Dec. 13 from 6 p.m. – 9 p.m.
Dec. 14 from 11 a.m. – 3 p.m.
Dec. 20 from 6 p.m. – 9 p.m.
Dec. 21 from 11 a.m. – 3 p.m.
Dec. 23 from 11 a.m. – 3 p.m.
Dec. 24 from 11 a.m. – 3 p.m.
Keep in mind that dates are subject to change depending on demand. Visiting Santa is free with paid admission to FLIPnOUT. What better way to spend the holidays than with its most famous figure? For more information, call FLIPnOUT at (702) 257-3547.
About FLIPnOUT
FLIPnOUT Fun Centers is Las Vegas' premier family fun center, including a 10,000+ square foot trampoline arena, AIR-Court sports, inflatable bouncers, arcade and food court. FLIPnOUT also includes a five-story laser tag warehouse. As a source of wholesome family entertainment, FLIPnOUT serves Las Vegas with good clean fun.