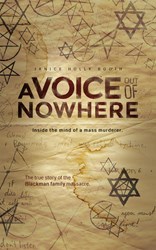 Mothers need to recognize that bizarre, inexplicable behavior might lead to violence.
Charlotte, NC (PRWEB) December 10, 2013
With the recent release of the police report detailing the known facts around the Sandy Hook shooting, it is clear that Adam Lanza's mother either ignored or minimized his son's odd behavior, says Janice Holly Booth, author of "A Voice out of Nowhere: Inside the mind of a mass murderer," which is Amazon's #1 best-selling book in schizophrenia. "A Voice out of Nowhere" is the true story of a mentally ill young man who killed his family during one night of psychotically-fueled violence.
"In A Voice out of Nowhere," says Booth, "the parents of the killer minimized their son's odd behavior, to their peril, just as Adam Lanza's mother tried to 'wish away' her son's bizarre habits of changing clothes several times a day and refusing to communicate with her other than through e-mail." Booth cites another recent case of Jordan Ramsay, diagnosed with paranoid schizophrenia, who – with his mother's permission and support – stopped taking his anti-psychotic medications and instead began a regime of vitamins called Truehope that are marketed to the mentally ill. Ramsey soon spiraled into a psychotic state, believed that his parents were aliens, and tried to bludgeon them to death in their bed. Ramsey's father died and his mother barely survived her extensive injuries.
"It is possible," says Booth, "that if Adam Lanza's mother had known the nature of her son's mental illness, she could have been more proactive about dealing with it, including the immediate confiscation and removal of guns from the home. Clearly, she never thought that her son would ever become violent."
"No-one wants to believe their child could or would do them harm, and no-one wants to see their child committed, but families – especially mothers – need to recognize that bizarre, inexplicable behavior might lead to violence, and that it's up to the family to take appropriate action, as difficult as that may be."
Bio:
Janice Holly Booth was born and raised in British Columbia. Her first book, Only Pack What You Can Carry was published by National Geographic in 2011. She has a master's degree in Leadership and was a non-profit CEO for more than 20 years before becoming a full-time writer and speaker. She currently lives near Charlotte, NC.