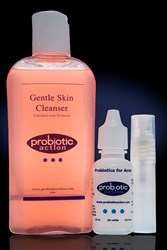 Probiotic for Healthy Skin
Miami, FL (PRWEB) December 05, 2013
Probiotic Action, an all natural acne treatment product line, commented on a recent article by the Buffalo News which stated that probiotics could be used to fight off stubborn infections through an oral supplement, even when taking antibiotics.
As stated in the article, those individuals who work in health care settings and those patients who are hospitalized and being given antibiotics to fight infections are seeing increased infections known as C-diff, which "can cause chronic diarrhea, abdominal pain and intestinal inflammation, which in severe cases can be life-threatening." The article goes on to state that increasing the amounts of probiotics in the stomach may help play a role in defending people from this and other bacteria and infections.
As Probiotic Action spokesperson Fernando Perez states, "This correlation between the potential negative side effects of antibiotics killing off good bacteria is similar to what happens when people use a hand sanitizer to kill harmful bacteria on the hands. The cure may actually undermine the body's natural defenses. While the antibiotics that people take kill bad bacteria, they kill the good bacteria that the body needs to stay healthy. When people use hand sanitizers to protect themselves, they are disrupting the natural bacterial balance that their skin creates to protect itself from damage as well."
Perez goes on to state that, "Restoring the body's natural good bacteria levels is critical to good overall health. Whether you take an oral supplement to replace the probiotics in your stomach or you use Probiotic Action to replace the healthy bacteria on your skin that you lose through hand sanitizers, excessive sweating, or everyday life, it's important that people recognize that probiotics are a key aspect to your overall immune system."
For more information about why Probiotic Action's natural ingredients help make it the best acne treatment, please visit ProbioticAction.com today.