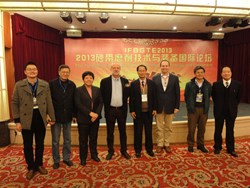 Zhengzhou, China (PRWEB) December 05, 2013
The First International Forum of Belt Grinding Technology and Equipment concluded with complete success at Zhengzhou International Convention and Exhibition Center in November, 2013. iAbrasive, appearing as a new representative force in the abrasive industry, took an active part in the forum.
The forum took place together with the Second China International Abrasives & Grinding Exhibition, which attracted a great number of representatives of industry associations, institutes, scientific research units and colleges, as well as the abrasive belt and equipment manufacturing enterprises. A well known German expert, Doc. Dern, was invited to give a keynote speech on the opening ceremony. Meanwhile, some famous domestic professionals made important reports at the conference as well.
Doc. Dern brought with him the latest industrial information and introduced the application status of overseas abrasive belt grinding technology. He indicates that only through reform and innovation can an enterprise survive from the fierce market competition. "As globalization enhances increasingly, there should be more and more platforms for worldwide suppliers and purchasers to exchange information and share resources without geographic boundaries. Therefore, iAbrasive, a professional b2b marketplace for the industry, appears and its power will be irresistible."said by Doc. Dern.
"At the very beginning, iAbrasive spends more efforts on techniques rather than promotion.Though iAbrasive has been well-known by some native suppliers, it might be strange to some remote sellers, which is the reason why iAbrasive attracted so much new attention at the exhibition. So, to promote iAbrasive in a large scale will be our next step. We'll help users recognize what benefits they can get from the platform and how to use it efficiently," says Lei.
In addition, the conference displayed the latest research results of abrasives belt grinding machine and abrasive belt manufacturing to provide more useful information for the abrasive belt grinding users. The photo showed on the right memorized the great moment Lei (the first one from the left) and distinguished guests spent together.
If you have doubts about iAbrasive, you are welcome to visit at : http://www.iabrasive.com.
Blogs are available online at http://www.iabrasive.com/blog/.