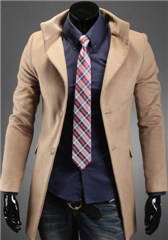 (PRWEB) December 05, 2013
Recently, 4leafcity.com, one of the world's leading clothing manufacturers and retailers, has proudly released its new selection of men's trench coats. Apart from that, the company has introduced a promotion to show appreciation to customers worldwide. Now, all old and new customers can enjoy a discount, up to 42% off, when buying the company's brand-new coats online.
"We are excited to announce our fresh products. Many gentlemen are eager to show its tastes and personalities by wearing wonderful clothes, so our company decided to create the high quality coats to meet their needs. Customers can find many hot designs in the new range," the CEO of the company says.
"Now, we are launching a special offer on these new products." He continues, "We want to show our appreciation to all kind clients. We are proud to say that a lot of our clothes have great market performance. So I think the new collection will sell well in the global market."
4leafcity.com is working hard to offer a truly unique and one-of-a-kind shopping experience for the international customers. It is proud of its affordable, high quality products. Along with men's trench coats, the company is also providing long sleeve t shirts, outerwear jackets and many other clothes.
About 4leafcity.com
4leafcity.com was founded in 2009 and serves more than 5000 customers from every part of the world. It is one of the leading suppliers of men's and women's clothes, helping the people worldwide develop self-esteem, confidence and love of learning. For a full list of services and to learn more about 4leafcity.com, please visit http://www.4leafcity.com/product-men-s-tweed-coats-009003005.aspx.