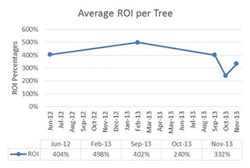 Our policy of constantly investing in research and development alongside back end production and distribution has paid off and been a key success factor
Singapore (PRWEB) December 06, 2013
As a testament to the success of it's business model, Asia Plantation Capital has consistently shown solid and steady returns from its portfolio of plantation and agricultural assets across Asia since 2009.
"Our policy of constantly investing in research and development alongside back end production and distribution has paid off and been a key success factor," says Barry Rawlinson, CEO of Asia Plantation Capital, Asia Pacific Region. "With agarwood it is not just our expertise in growing the species, but our understanding and involvement in the end uses of this speciality wood that enables us to maximise the end-of-life investment returns."
Early investors have received returns of up to 15% annually on agroforestry plantations whilst plantation owners opting for niche agarwood plantations have received yields of up to 498% net return on investment.
The chart shows monthly ROI on private owner's agarwood trees harvested since June 2012. The variance in yields is normal based on numerous natural factors.
These figures underline and emphasise the success of Asia Plantation Capital's business model.
In a sector often plagued with doubters, and in some cases even illustrated by spectacular failures of new 'wonder' crops often grown in unstable countries, Asia Plantation Capital has carved out a sound professional reputation by focusing on proven high value timber species and in-demand food cash crops with a fast turnover, in some cases as high as three crops per year, based in stable countries of operation with clear legal policies for agricultural businesses and sound, verifiable land title.
"Unless its a blue chip stock or share, its a bad investment" has been a doubt often expressed when it comes to investments. Investors who have put their trust into managed forestry plantations with Asia Plantation Capital can confirm these fears are unfounded.
Agarwood in particular, with its myriad of applications, has seen demand led values grow exponentially with now virtually every part of each tree having a monetary value; from herbal teas and traditional medicines, to Oud oil in fine fragrances. Asia Plantation Capital has clearly led the way in developing a fully integrated business model from seedling propagation and sustainable plantation management right through to the final processing of trees into consumer end products.
With the current demand, and prices rising for 100% for organic and sustainably grown agarwood, Asia Plantation Capital's expansion in plantation capacity and end-processing is a strategic decision to keep production in line with current and future market demands.