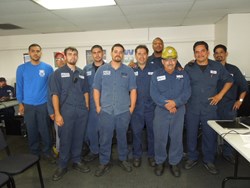 "The program exceeds my expectation in every way." - Paul Dennis, CFO, Weber Metals
(PRWEB) December 20, 2013
In the aluminum and titanium forging business, danger is everywhere. With the cost of workers compensation soaring and the potential for serious injuries looming, companies must provide superb safety training. Unfortunately, most accidents are a reflection of the company's safety culture -decisions that workers make, rather than a lack of training. So a crucial part of safety is the attitude that workers bring to the job.
The leading company in this industry, Weber Metals, has done a superb job in strengthening their safety culture, making safety a core value of the organization. In 2013 the company's injuries decreased by more than 75%, allowing them to shift more than $1 million from a budget line for workers compensation into the company's profit sharing plan.
Central to the attitude shift is a unique safety recognition and rewards program, with monthly meetings that are a celebration of the safe achievements by the workers. The meetings are a positive and popular event, with music, pictures, applause, and laughter. Bridge Safety Consultants designed the program, and their bilingual safety pros lead every meeting. What the program accomplishes is one of the most difficult challenges for any company: it changes the safety culture of the organization.
Based in Los Angeles, Bridge Safety Consultants has been designing and leading dynamic safety awards programs since 2003. Clients from all industries average injury reductions of greater than 40%, generating significant drops in X-Mods and premiums. Videos of meetings, as well as results and testimonials, can be seen on the Bridge Safety Consultants website: http://www.bridgesafetyconsultants.com. For more information, contact company president and founder, Joe Stevens, at 310 433- 5611.