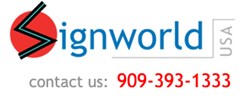 Although we have now changed our name from Signworld US Inc. to Signworld America Inc, our customers will still be able to look forward to the great value for money, excellent service, and superb choice that they have always been used to
(PRWEB) December 18, 2013
Chino, CA: Officials from sign specialist Signworld US Inc. have recently confirmed that although the company has not changed, it has gone through a name change and is now known as Signworld America Inc. The company specialized in products such as signs, stands, banners, and flags for events and exhibitions.
While the name of the company may have changed, Signworld America Inc. will continue to offer consumers a huge choice of products as well as excellent quality and customer service. The company offers access to everything from stands, flags, and retractable roll up banners through to wide format printing media.
The company has always prided itself on the variety and quality of products that it offers to its customers, and officials from the company said that this great choice and value would continue. In addition to offering competitive prices on the cost of all of its products, the company will also continue to offer speedy turnaround times with same day shipping on most stock items that do not require print as long as they are ordered prior to 1pm PST.
An official from the company said: "Although we have now changed our name from Signworld US Inc. to Signworld America Inc, our customers will still be able to look forward to the great value for money, excellent service, and superb choice that they have always been used to. We continue to operate as the same company, so all that has changed is the name. Both our existing and new customers can enjoy the confidence and peace of mind that our company will continue to ensure that all customers enjoy an enhanced purchasing experience with Signworld."
Website visitors can browse a wide range of products that are available via the website, along with customer testimonials from past purchasers and a live chat facility.
For more information, please visit http://www.display-wholesale.com/servlet/the-Banner-Stands/Categories.
Facebook: http://www.facebook.com/signworldusinc
About Signworld America Inc.
Signworld America Inc. is a specialist company providing access to signs, banners, flags, stands, and a range of other similar products for events and exhibitions.
Contact information
Signworld America Inc.
14279 Albers Way
Chino, CA 91710
United States
Phone Number: 909-393-1333