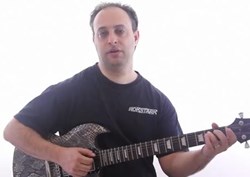 (PRWEB) December 05, 2013
In this guitar lesson, now available on YouTube.com, Claude Johnson teaches how to play some of the easiest chords that can be played on the guitar.
Claude starts off with the easiest chord there is on the guitar which is to just play all of the strings open, that chord is Esus#9, "but that's not a very useful chord", says Johnson. Claude says, "lets try a chord that's sounds better and is a bit more useful, the easiest chord that is actually useful is Em7", which he demonstrates as simply fretting the second fret of the 5th string with his middle finger and then playing all six strings. Claude explains that if you simple add your third finger to the second fret of the 4th string you get Em. Next he teaches Am7, which consists of your first finger on the first fret of the second string and your middle finger on the third fret of the fourth string and then strum all of the strings except the 6th. Johnson explains that switching back and forth between Em7 and Am7 is very easy and is also the chord progression for many popular songs such as Concrete Jungle by Bob Marley. Am7 can also be easily made into Am by simple adding your third finger to the second fret of the third string and by simple moving your third finger to the third fret of the 5th string you get the chord C. By switching back and forth between Am and C you have the chord progression for About a Girl by Nirvana. To learn more of these really easy chords, visit GuitarControl.com/beginner.
About Claude Johnson
Claude Johnson, a native of Philadelphia PA, began playing guitar in 1990 after being inspired by players like Jimi Hendrix, Eric Clapton, and Stevie Ray Vaughn. He is the creator of GuitarControl.com and has helped 1000's of people to learn to play the guitar with his critically acclaimed instructional DVD courses, all available at GuitarControl.com.
About GuitarControl.com
GuitarControl.com is the leader in modern guitar instruction. It's packed with recourses including articles, video lessons, and the best videos in the business for the beginner to the advanced guitar student taught by the best instructors out there. Weather you are into the blues, rock, jazz, metal, folk, or anything in between, they have you covered.