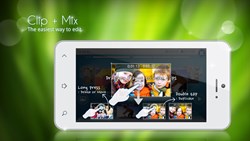 KineMix offers the most essential editing tools to those looking for an easier and faster way to edit their video clips.
(PRWEB) December 06, 2013
NexStreaming today announced KineMix, its new app in Google Play that will let users, with or without video editing experience, create and share videos on their smartphones and tablets.
Video editing is now becoming a standard feature on smartphones and Facebook and Google+ users are often on the look out for apps that will improve their social media experience. But video editing is one of the biggest challenges for most people and transferring videos between devices makes the editing process even more complicated. NexStreaming's KineMix offers a fundamentally different technological solution to make editing more instantaneous and more personal.
KineMix, a free app for Android devices, offers the most essential editing tools to those looking for an easier and faster way to edit their video clips. Editing with KineMix is simple because it makes video highlights by clipping and mixing original video recorded with smart device cameras.
The user can "clip" their favorite highlights by simply dragging the key frames down, and can then pinch to adjust or move or duplicate them to mix the clips into a whole new video. In addition, with KineMix's "Snapshot" feature, users can create a GIF animation like effect, showing multiple images in an arranged order for looping.
KineMix is available for smartphones and tablets running Android 3.0 (Honeycomb) or above and the latest Android 4.4 (KitKat) is also supported. Upcoming feature updates will enable adding background music, text captions and photos, etc.
With KineMix, users can quickly turn hour-long uneventful video recordings into snappy, entertaining highlights. Capture and share everyone's most memorable moments from special occasions like weddings, birthday parties, video diaries or just a night out with friends.
KineMix was launched in late October and has been downloaded in over 170 countries. KineMix can be downloaded on Google Play and the iOS version will be available soon.
KineMix will also later be packaged into an SDK so that other service providers can license it from NexStreaming. For more information, please visit http://www.kinemix.com.
About NexStreaming
NexStreaming (KOSDAQ: 139670) is a global multimedia software company with headquarters in Seoul (Korea) and branches in the US, China, Spain, Japan, and Taiwan. Not only have NexStreaming's sales been rising steadily but the proportion of sales to major global media customers and smartphone manufacturers has also been growing. NexStreaming is a publicly traded company listed on the Korean stock market, KOSDAQ. For more information, visit http://www.nexstreaming.com.