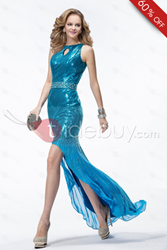 Hong Kong, China (PRWEB) December 07, 2013
With headquarters situated in Hong Kong, China, Tidebuy International Limited offers a big collection of discount offers on Clothing. Discounts are available through December 6nd, and are there to stay until Christmas.
Discounts are offered on tidebuy.com websites and are applied to some categories as Fashionable Clothing, Special Occasion Dresses and presents. Discounts start at 45% and will go to 90% on all products. Discounts are applied to approximately 1000 products in all the above mentioned categories. Customers aren't limited to one product per purchase as in case of other discounts, but instead are welcomed to place bulk orders in order to get extra-discounts.
The bestselling product in the Fashionable Clothing category is New Arrival Wool Yarn Double-breasted Overcoat. It is suitable for general outside wearing. The New Arrival Wool Yarn Double-breasted Overcoat is available for $43.99, 75% off from the original retail price at $175.00.
Elegant Mermaid Floor-length One-shoulder Event/Evening Dress is the number one choice of customers in the Evening Dresses category on tidebuy.com. This cheap dress features a red, long design to the floor.. It is suitable to be worn at a wedding, birthday party, or to be delivered as a gift. This dress can be bought on tidebuy.com for $189.59, discounted by 55% from an original market price at $405.00.
There are 2397 products available under the Evening Dresses category on Tidebuy website. The recommended product is represented by column/Sheath Floor-Length Taline's Evening Dress, coming at a price of $138.09. This dress is made out of elastic woven satin, and it is a great clothing element for ladies. Tidebuy offers the product with a discount rate of 75% from the $515.00 original price.
All products in this offer are subject to 8 to 12 calendar days for tailoring. International shipping is available for discounted products, with an average shipping time ranging between 2 and 8 days depending on the final destination. Most products from this Christmas offer come with free shipping worldwide.
Tidebuy International Limited is an international e-commerce, fashion oriented selling company, boasting around 10 million products from the company's owned factories. Tidebuy is opened for buyers around the world, totaling 200 countries within the area of sales.