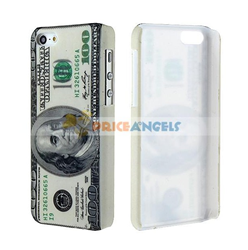 (PRWEB) December 05, 2013
PriceAngels.com, a leading online store that provides many quality electronic products with free shipping worldwide, has recently added a series of iPhone 5C cases to its product catalog; these cases' prices are much lower than those from other suppliers.
There is a total of 24 items in the new collection. All these cases are of satisfied high quality. They are specially designed for the travelers, businessmen as well as other iPhone fans. Take one plastic case for example: it allows a user to see time, SMS, music track, battery status and other information without opening the case. Its wonderful cutouts can maximize the iPhone 5C's functionality, and can secure the phone in any urgent case.
"We're very excited to introduce these cases for the latest iPhone 5C smartphones. Thanks to their superb functionality and design of the iPhone, our cases will become the most popular cases in market." The sales manager of PriceAngels.com says.
Price is a great concern for many smartphone users, and PriceAngels.com knows this very well. All its iPhone 5C cases are priced at a low level, so that those who want to buy cheap iPhone 5C cases can consider to visit PriceAngels.com now.
A German customer comments, "These new cases are the revolutionary products for the iPhone 5C. Their outer frame and the inner shell are normally detachable and can be interchanged easily for more color choices. I love these new cases. Thank you PriceAngels.com."
About PriceAngels.com
PriceAngels.com has much experience in the wholesale and retail of China electronics. They have a great knowledge of the coolest gadgets and client needs, which has helped them develop a very attractive and competitive product line of electronics. The reason to choose PriceAngels is very simple: PriceAngels offers premium quality cool gadgets at affordable prices, and all their products are free shipping. For more details, please view: http://www.priceangels.com/iPhone_5C_Accessories_Cases-z978.html
Follow PriceAngels at:
Facebook: https://www.facebook.com/PriceAngels
Twitter: https://twitter.com/Priceangels2008