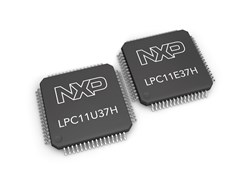 Eindhoven, Netherlands and San Jose, California (PRWEB) December 05, 2013
NXP Semiconductors N.V. (NASDAQ: NXPI) today introduced two new microcontrollers that allow developers to address late design changes to their system. The LPC11E37H and the LPC11U37H include an "I/O Handler" peripheral that offers designers the flexibility to add incremental peripheral functionality at any point during the design cycle. The I/O Handler peripheral can be easily configured to add I2S, I2C, UART, DMA and other functionality to the MCU with little impact on CPU performance. Each microcontroller features a low-power 50-MHz ARM® Cortex™-M0 processor with up to 128 KB of flash, 12 KB of SRAM and 4 KB of EEPROM, with an additional Full-Speed USB device controller included on the LPC11U37H.
"With design cycles becoming shorter than ever, there are often unforeseen system changes that require additional MCU functionality late in the design," said Ross Bannatyne, general manager, mass market microcontroller product line, NXP Semiconductors. "The new I/O Handler peripheral allows designers to easily add significant functionality, such as serial communications interfaces, at any time in the design cycle. The I/O Handler can even provide DMA (Direct Memory Access) or ADC threshold functionality to further optimize performance and power efficiency."
The I/O Handler is configured using pre-compiled libraries that can be downloaded from NXP's LPCware software and support website and are available for no additional charge.
Links

About NXP Semiconductors
NXP Semiconductors N.V. (NASDAQ: NXPI) creates solutions that enable secure connections for a smarter world. Building on its expertise in High Performance Mixed Signal electronics, NXP is driving innovation in the automotive, identification and mobile industries, and in application areas including wireless infrastructure, lighting, healthcare, industrial, consumer tech and computing. NXP has operations in more than 25 countries, and posted revenue of $4.36 billion in 2012. Find out more at http://www.nxp.com.
Forward-looking Statements
This document includes forward-looking statements which include statements regarding NXP's business strategy, financial condition, results of operations and market data, as well as other statements that are not historical facts. By their nature, forward-looking statements are subject to numerous factors, risks and uncertainties that could cause actual outcomes and results to be materially different from those projected. Readers are cautioned not to place undue reliance on these forward-looking statements. Except for any ongoing obligation to disclose material information as required by the United States federal securities laws, NXP does not have any intention or obligation to publicly update or revise any forward-looking statements after NXP distributes this document, whether to reflect any future events or circumstances or otherwise. For a discussion of potential risks and uncertainties, please refer to the risk factors listed in NXP's SEC filings. Copies of NXP's SEC filings are available from the SEC website, http://www.sec.gov.