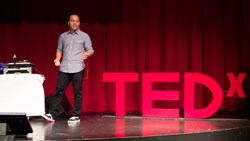 DJ Icy Ice is an inspiration!
Los Angeles, CA (PRWEB) December 06, 2013
How do you find your voice?
At a local TedX conference for high school students on November 23rd, DJ Icy Ice shared his insights to inspire students to do just that. DJ Icy Ice is an entrepreneur, pioneer and internationally known disc jockey who found his own path in life to become happy and successful.
"DJ Icy Ice electrified our TEDx audience with an amazing presentation and performance. More importantly he shared how he found his voice, passion and purpose as a DJ. Students, teachers and audience members were moved to action by making their dreams a reality. DJ Icy Ice is an inspiration!" said Michael R McCormick, Assistant Superintendent Education Services.
DJ Icy Ice shared and encouraged students to find success in everything they do. His personal story inspired and motivated youth to never give up their dreams.
"I was moved by DJ Icy Ice's talk at TEDx. I am also a DJ and use the same DJ software that he uses for DJing. I hope to be as good as him one day, and make a career from my passion like he talked about," said Jose Sandoval, student at Val Verde High School.
DJ Ice explained, "As a shy kid growing up, being able to find my voice through music and Dj-ing was the single most important opportunity of my life. I want to be able to share my story, inspire and encourage others to not be afraid to take risks and turn what they love into a lifelong career."
DJ Ice also shared his passion for and the importance of giving back to the community in appreciation and gratitude for his success. "Being able to use my achievements to help others is not only just something I do, it's a way of life." Sharing his story to inspire youth is paramount to that philosophy, but DJ Icy Ice takes his philanthropy further. Most recently, DJ Ice joined forces with local and internationally known comedians to host a comedy event with all the proceeds donated to the victims of Typhoon Haiyan. He and others plan additional events to continue to send aid.
You can learn more about DJ Icy Ice and his passion via his website icyicemusic.com.
Editors Notes:
"Finding Your Voice"
The TEDx was aimed at showing students a variety of new ideas and the passions that drive some of the movers and shakers in our local area of Southern California. Our speakers are people who have found their voice and we hope that they might inspire our students into finding their own voice.
DJ Icy Ice will speak to high school students to inspire them to be individuals and not be afraid to follow their own path.
About DJ Icy Ice
As an original member of the World Famous Beat Junkies, DJ Icy Ice has amassed a resume that includes nearly two decades of performing on the world's biggest stages. Icy Ice's artistry has been showcased at the largest music festivals, hottest club venues, and elite private parties throughout North America, Europe, Australia, China, Japan, Sri Lanka, Taiwan and more.
Icy Ice is currently featured as a DJ & Video Mixer on LA's top-rated radio station, "Power 106" as well as 99.5 RT in Manila every Friday night. His mixes are also heard weekly by tens of millions throughout the US and the Philippines via syndication on Superadio.
Icy Ice has been the exclusive DJ for Manny Pacquiao, Black Eyed Peas, Kanye West, Magic Johnson, Shaquille O'Neal, the Sundance Film Festival, Vivid, DUB Magazine, The Magic Convention, SEMA, CES, Jamie Presley, the Grammys, the American Music Awards, NBA All-Star Games, LA Fashion Week, X-Games, the Democratic National Convention and hundreds of other corporate and private events.
Icy Ice's accomplishments include spinning for acclaimed radio stations such as KKBT 92.3, 93.5 KDAY, Divine Forces Radio on 90.7 KPFK with Fidel Rodriguez, and Movin 93.9 FM with Rick Dees in the Morning. Icy Ice has built multiple retail record store locations throughout Southern California. He has been the resident DJ for Guerilla Union's "Rock The Bells" music festivals and toured with the legendary Hip Hop artist, KRS-One.
For the past several years, Icy Ice has been expanding the exposure of, "Visual Turntablism," through a variety of high profile online platforms and can be seen live every Tuesday at StacksTV.net and BReal.TV (Cypress Hill's online channel). Icy Ice co-founded, TurntableU.com, the world's premiere online DJ school and built ExclusiveGrooves.com, an online MP3 and video record pool.
DJ Icy Ice has been key in raising awareness and funds in aid of victims of Typhoon Haiyan in the Philippines.
A renowned turntablist, entrepreneur and elite party rocker, DJ Icy Ice continues to push the boundaries.
Media Contacts
Michelle Suzuki, MSC-PR
310-444-7115
michelle(at)msc-pr(dot)com