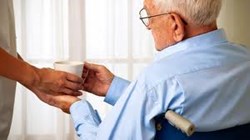 No person, should be denied care at its most basic level, and it saddens me that this has allegedly taken place.
Bolton, UK (PRWEB UK) 9 December 2013
An article by the Telegraph states that elderly patients have allegedly been left without access to enough water, despite being under medical supervision in care homes across the country (1). In a series of unannounced investigations, carried out by the Care Quality Commission earlier this year, it was discovered that an unacceptable number of residents "Were routinely denied privacy, inadequately fed or just ignored"(1).
In keeping with the reports, charities are calling for a complete reconstruction of the social care system, in an effort to ensure that patients are continuously provided with basic care- including access to sufficient amounts of food and water (1).
Speaking on the findings, Ms Williams, executive at clinical negligence solicitors, Asons, said:
"Where these incidents of poor care have occurred, I am not surprised that the public are calling out for changes in the system. No person, should be denied care at its most basic level, and it saddens me that this has allegedly taken place.
"I believe the key in ending incidents of poor care would lie in the implementation of stricter regulations across the care sector. The healthcare inspectorates need to become more observant of the behavior of care workers, recognising the inherent warning signs of foul play.
"The inspections need to be more vigorous, closely monitoring all aspects of the homes, not only surrounding blanket issues such as hygiene, but the behavior and mannerisms of the staff, especially those that patients and their families have raised concerns about."
The Care Quality Commission have begun inspections, identifying those few individuals and practices, which have been exercising poor care, in relation to vulnerable patients (2). If taking care of the vulnerable becomes a government priority, then the number of such incidents may begin to reduce".
Figures published by The Telegraph allege that 1,158 care home patients died from conditions directly related to dehydration, between the years of 2003 and 2012. Further to these statistics, the article elaborates, suggesting that 318 more patients died from starvation, or malnourishment, and 2,815 deaths were associated with bed sores (1).
Anyone that has been affected by poor treatment in a care home may be entitled to make a claim for compensation. To find out more on Care home claims, or gain information on how a loved one may have been affected by nursing home negligence, contact Asons on 01204 521 133, or visit http://www.asons.co.uk.
(1) The Telegraph, More than a thousand care home residents die thirsty, 01/12/2013,
http://www.telegraph.co.uk/health/healthnews/10487305/More-than-a-thousand-care-home-residents-die-thirsty.html
(2) Care Quality Commission, CQC publishes fourth State of Care report, 21/12/2013
http://www.cqc.org.uk/media/cqc-publishes-fourth-state-care-report

About Asons Solicitors:
Asons Solicitors is a Bolton-based law practice that specialises in personal injury and industrial disease claims. Founded by brothers Imran Akram and Kamran Akram, Asons Solicitors has developed to become a young and dynamic law firm that delivers practical solutions to clients in times of difficulty. Their continued focus on their staff has seen them awarded with the Investors in People "Gold Award"; which is reflected in the professional and personable approach they take in working with clients. They strive to grow and to develop, and their supportiveness and attention to detail ensures that their clients use them time and again.
All views expressed in this article are those of the individual and do not necessarily represent the beliefs of the firm.
For further information contact:
Email: info(at)asons(dot)co.uk
Website: http://www.asons.co.uk