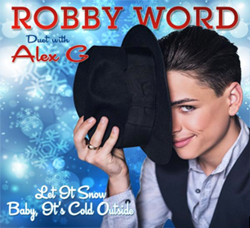 Los Angeles, CA (PRWEB) December 06, 2013
Robby Word burst on the scene bringing holiday cheer with his smooth and flirtatious mashup with Alex G. of "Let It Snow" & "Baby It's Cold Outside." The classic sound may feel like a throw-back to the days of the Rat Pack, but producer/director Kurt Hugo Schneider gives it a refreshing Pop Twist.
YouTube link to the video:
https://www.youtube.com/watch?v=qjA4qpaCCTs
iTunes link:
https://itunes.apple.com/us/album/let-it-snow-baby-its-cold/id765923287
Soundcloud link to stream the song:
https://soundcloud.com/j-2-music/let-it-snow-baby-its-cold/s-le3ta
Although only 16 years old, Robby Word flaunts his immense voice and classy style, a la the Rat Pack, combined with some serious Soul and Pop influences. An LA native and student at the prestigious Los Angeles County High School for the Arts, he continues to flourish and hone his craft. "There's a very unique feeling I get when I'm singing," he admits. "I can't find it anywhere else." At a very young age, Robby discovered the likes of Dean Martin, Michael Jackson, and The Beatles. Inspired and invigorated, he decided to pursue musical theater. "I want to do something different, fresh and edgy," he concludes. "I want to make music that affects listeners the same way my favorite artists have influenced me."
"Exciting" proves apt when describing this young impresario. He delivers his debut single with palpable power, which can be felt immediately. "This mashup is a fun introduction to what I'm doing and nods back to the Rat Pack influence." Robby is currently collaborating with writers and producers for his next release.
Contact: Jonathan Platt at J-2 Music email: platt(at)j-2music(dot)net