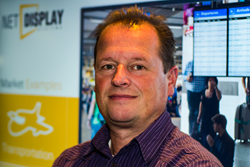 With our PADS4 digital signage product we have huge potential in this dynamic and exciting market
EINDHOVEN (PRWEB) December 06, 2013
Net Display Systems (NDS) a key player in the global market of digital signage software has announced that Louis van Geldrop who has led the company as CEO for nearly 20 years has retired as of November 30 2013.
As co-founder Louis van Geldrop started the company in 1994 and has made NDS the successful and financially stable company it is today. He will continue to be active for the company as a member of the board.
The retirement of Louis van Geldrop has led to a number of changes in the management of NDS. Willie Jan Bons, head of development at NDS, will succeed Louis van Geldrop as Chief Executive Officer, effective December 1, 2013. Willie Jan Bons is a seasoned NDS veteran. He started out at NDS 18 years ago as a software developer and since 2010 he was appointed as head of development. He will combine his new role with his current responsibilities as CTO.
In addition, Bjørn Pieper has been selected as Chief Commercial Officer and Arthur Damen will fulfil the role of Chief Marketing Officer. "With these people we have a team with enormous experience and expertise in the digital signage market and we are well prepared to set the next step in growing the business," says Willie Jan. "Of course we will continue to do what we are good at: building superior software for simple to complex and mission critical digital signage solutions',' he continues.
"We also plan to work even more closely with our partners to develop exactly what the market needs," Bjørn Pieper adds. "With our PADS4 digital signage product we have huge potential in this dynamic and exciting market," Arthur Damen concludes. "With the right focus and strategy we are convinced NDS can be even more successful in the future".