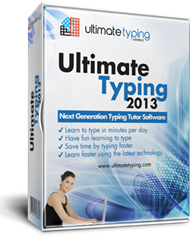 Keyboard training is a skill anyone can learn given the right tools and methodology.
New York City, NY (PRWEB) December 12, 2013
Ultimate Typing™ software developer eReflect revealed today that the over 800 lessons and exercises the software offers is a large reason why the software's users so quickly and effortlessly learn to type correctly. Ultimate Typing™ has been enriched with a kaleidoscopic variety of games, learning activities, and exercises so that typists can get complete training in the art of keyboarding.
Keyboard training, eReflect noted, is a skill anyone can learn given the right tools and methodology. The developers of Ultimate Typing™ have designed activities and games that promote typing speed and accuracy substantially, using a training pace geared to the individual user.
The software helps the user learn to type correctly, accurately, and quickly through a series of exercises and activities that grow gradually more demanding as the user's skills improve. The simple fact that there is a large number of activities and lessons included in the software is a sign of how varied, adaptable and efficient the software is in improving typing skills. A representative from eReflect emphasized this point in a short announcement published this morning, remarking that this facet of the software is one that most reviewers highlight like the product features discussed by speedreadingtechniques.org.
Most typing software products solely focus on teaching typing accuracy, with little if any attention given to typing speed. By contrast, Ultimate Typing™ gives the learner a wide range of activities, games and lessons to practice with, to ensure the user can achieve a balanced typing performance where both speed and accuracy are equally improved.
Apart from the typing lessons, the software offers learners the opportunity to practice through 16 different typing games and well over 500 different typing activities. The size of the resource base and number of activities available ensures that learners of all levels can use the software to either learn basic typing skills or improve their existing typing skills and achieve new records of typing accuracy and speed.
The software has been designed by the experts at eReflect in order to make typing practice efficient and effortless. More importantly, it's been developed with adaptability in mind, something that is proven by the large number of lessons and activities. The company wanted to offer a typing learning solution that the whole family or office could benefit from, the eReflect representative concluded.
For more details on Ultimate Typing™, please visit http://www.ultimatetyping.com/.
About Ultimate Typing™
Ultimate Typing™ software is designed specifically for the improvement of typing skills. Created by eReflect, a world leader in e-learning and self-development software, Ultimate Typing™ has been informed by the latest developments in the science of touch typing.
Since its creation in 2006 by Marc Slater, the company has already catered to over 112 countries all over the world, offering products with the latest cutting-edge technology, some of which are among the world's most recognized and awarded in the industry.