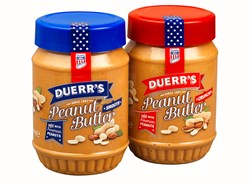 Weight is a continuing issue in supply chain logistics with petrol and diesel prices remaining high.
Leeds (PRWEB UK) 10 December 2013
In the past 12 months, Duerr's has had great feedback from UK retailers for its Peanut Butter packed in plastic jars from injection and blow moulding specialist Esterform Packaging. Retailers are pushing a move in this direction to maintain aisle movement and prevent costly downtime due to breakages. Plastic jars are also popular as weight is a continuing issue in supply chain logistics with petrol and diesel prices remaining high.
The company has produced peanut butter for the retail label market for 25 years, and less than two years ago invested £2 million in a specialist plant in Manchester producing 100,000 jars a day.
We are currently seeing a boom in peanut butter, which showed growth of 8.3% by volume in an overall spreads category up just 0.6% [Kantar Worldpanel 52 w/e 28 October 2012].
Sainsbury's switched its own brand peanut butter jars from glass to plastic in 2011, in a move to reduce carbon emissions by more than 150 tonnes a year. Packaging was cut by 83% - or 882,000 kilos – as a result, with the lighter jars requiring less fuel to transport. As a quick update, according to Sainsbury's head of packaging Jane Skelton, in 2012/13 a further 3.6% of packaging was removed from Own Brand products which means a total 26.1 per cent reduction compared to 2005.
Sainsbury's has cut packaging levels by 12 million kilos over the past year, with around 7% of packaging removed from Sainsbury's own-label products.
Esterform produces preforms for a full range of 63mm neck jars in PET, from 214 ml to 710 ml in size. These are suitable for plastic or metal closures.
The company also make and blow preforms for 28mm neck bottles for condiments and savoury sauces. 38mm neck jars and bottles in PET are offered in sizes from 190 ml to 500 ml. Top down squeezy bottles are included in the range.
Innovative customised bottle and jar shapes can be individually designed for individual customers. And options for UV and O2 barrier technology are available.
Peanut Facts
1) Peanuts are grown in North America, South America and China.
2) The peanut or ground nut (also known as earthnut, goober peas, monkey nuts, pygmy nuts and pig nuts is actually not a nut but a legume.
3) The Incas mashed peanuts to a paste almost 3000 years ago.
4) Both crunchy/chunky and smooth peanut butter are good sources of unsaturated fats. However, crunchy/chunky peanut butter has slightly more unsaturated and less saturated fat than smooth. Smooth peanut butter does not contain as much fibre.
5) Peanut butter provides protein, Vitamins B3 and E, magnesium iron, dietary fibre, resveratrol, arginine and antioxidant p-coumaric acid.
6) The 1st of March is national Peanut Butter Lovers day.
7) It takes around 540 peanuts to make a 340g Esterform jar of Duerr's own label peanut butter.
8) CH Sumner introduced peanut butter to the US in 1904.
9) Two peanut butter farmers have been elected US President – Thomas Jefferson and James Carter.
10) Peanut butter is popular in baking caramel and peanut slices and peanut butter and chocolate brownies.
11) Peanuts have more protein than any other nut and are cholesterol free.
12) The average US child will eat 1,500 peanut butter and jelly (jam) sandwiches before graduating from high school.
13) Arachibutryophobia is fear of peanut butter causing the tongue to stick to the roof of the mouth.
Some facts courtesy of the USA National Peanut Board