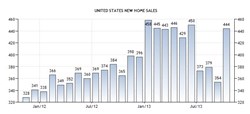 the October homes sales percentage change was so great that it has not been seen for over 33-1/2 years!
Chicago, IL (PRWEB) December 05, 2013
Wednesday's new home sales report was surprising and very positive for the real estate market. Peoples Home Equity sees the triple combination of positive GDP growth in the 3rd quarter, declining continued jobless claims to be especially uplifting to the housing market.
The new home sales announcement as showed on TradingEconomics.com showed that October transactions climbed an astonishing 25% from September. This stark increase gave reason for the market to ignore the September slump in sales of -6.5% from August. The greatness of the October homes sales percentage change was so great that it has not been seen for over 33-1/2 years! Year-over-year home sales are now up 21%, while they are up an impressive 35% for a 2 year period.
As with the other economic figures that we've seen this recently, the new home sales report was for two months instead of one September & October since U.S. Census Bureau was closed during the government shutdown in October. Market expectations were to see the large rise in home sales for September and then a small increase for October. One would think that with the 16 day government in October the market would have shown some movement beforehand, just instead it occurred during the actual month of October.
Peoples Home Equity has been informing its clients this year of the improving U.S. economy. The economic data being released from Washington is very encouraging Americans. While prospective home buyers might be anxious over the trend of climbing interest rates, People Home Equity reminds individuals that an improving economy coupled in a rising interest rate environment pushes home property values higher. Thus the challenge of rising interest rates is rewarded back to lien holders that their home equity is improving. This however, does not mean prospective home buyers have a lot of time to continue looking for a home before interest rates rise. Individuals who are still looking for a home are at serious risk of paying a higher interest rate on their mortgage in the and paying a higher price as low inventory and rising property values are currently the trend. This situation is very real; as the U.S. economy continues to improve the Federal Reserve will begin to tapering its recovery spending policy. Peoples Home equity encourages prospective home buyers to get approved for a home loan now, before both interest rates continue higher.
Please contact Peoples Home Equity loan officer today for mortgage details at: (855)-897-0300