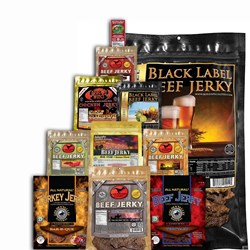 Orlando, FL (PRWEB) December 05, 2013
JerkySpot.com carries over 12 of the strongest jerky brands on the market including Black Label, Braaitime, Bulk Beef, Carnivore Candy, Dragon Wings, Jeff's Famous Jerky, Gary West, Golden Valley Natural, Buffalo Bills, Nick's Stick, Ostrim and Up North Jerky Outlet. In addition to these outstanding jerky brands, they have stocked their inventory with a wide selection of jerky flavors, types, and gift packs.
"We've been experiencing exponential growth with our business, and it has allowed us to create an abundance of Gift Packs to offer our valued customers both new and loyal. This year, in the spirit of the holidays, we have put together the "12 Days of Christmas" Jerky Sampler with a palatable selection of twelve jerky varieties for you or a friend to enjoy," says JerkySpot.com Owner David Wolf. He continues, "We really covered the bases for a total taste sensation from the super spicy to a sweet melt-in-your-mouth meaty delight. We're quite sure our "12 Days of Christmas" Jerky Sampler package will be the one gift that no one will want to put down."
In addition to the wide range of package and ordering options, the JerkySpot.com offers a unique membership club called the "Jerky of the Month". Subscribers will receive 3 full bags of jerky a month for 3 straight months to keep the tasty treats rolling in so you are never out of your favorite snack. Orders can be shipped worldwide, and there is even an option for full support of APO and FPO shipping so you can send a care package to your servicemen and women of the armed forces.
About JerkySpot.com:
The JerkySpot.com is an internet based online retailer of jerky brands, flavors, types and gift packs that is owned and operated out of Orlando, FL and services customers worldwide.
Jerkyspot carries the following types of jerky: Bacon, Buffalo, Biltong, Chicken, Elk, Gluten Free, Hot Beef, Low Sodium, Turkey, Venison, and Organic.
More information about JerkySpot.com is available online at http://www.jerkyspot.com.
Financial capital for JerkySpot.com is provided by Prime Pinnacle, LLC, a private capital equity investment firm. Prime Pinnacle focuses on alternative capital investments. For more information visit http://www.primepinnacle.com.
If you would like more information about this topic, please call David Wolf at (855) 355-3759 or visit us on the web at http://www.jerkyspot.com.