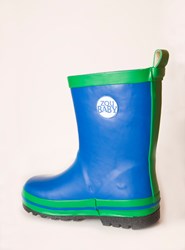 Even the pickiest mini-style mavens will find a color combo to his or her liking.
New York, NY (PRWEB) December 06, 2013
Now moms can really make those rainy days brighter for the kids with a pair of colorful, monogrammed boots from Zoubaby! Based on consumer demand, Zoubaby has come out with an exciting array of colors—all of which can be monogrammed with some equally fun thread choices—either to match the trim colors or to throw in an additional splash of color.
Children will certainly get a kick out of designing their very own pair of boots – with two-tone color choices, such as lime green with white trim, pink with orange trim, royal blue with green trim, and a classic black with white trim, even the pickiest mini-style mavens will find a color combo to his or her liking! Plus, with five monogram styles and eleven thread colors, there are myriad ways to create a look that is truly one-of-a-kind. With a knitted nylon lining, children's feet will remain warm and dry throughout the dreariest days. Best of all, since they're ready-labeled with each child's initials, they'll be sure to stay out of the lost and found!
The kids' boots come in sizes 10, 11, 12, 13, 1, 2, 3 and 4. The Zoubaby logo on the inside of each boot also adds some fun: there is a heart-shaped logo on the pink and green boots and a circle logo on the blue and black boots.
And, moms can treat themselves to Zoubaby boots as well- Zoubaby's women's boots have an equestrian-style cut that flatters whether you are in a skirt, skinny jeans, or a suit!
For gifts that will NOT be re-gifted, simply log on to http://www.zoubaby.com.
(###)
ABOUT ZOUBABY:
Zoubaby's founder, Bridget Davis, is a Cincinnati native and a mother of four. She founded the company when she had finally worn out her favorite leather riding boots. She realized that she needed to find a longer-lasting alternative that would meet her need for comfort and quality but also reflect her stylish flair. Endlessly creative, she experimented with a pair of her daughter's rubber rain boots and a monogram machine. Ta da, Zoubaby boots were born!