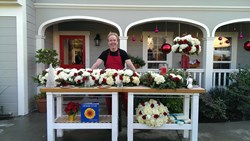 Los Angeles, CA (PRWEB) December 07, 2013
The set of the Home and Family Show (Airing on the Hallmark Channel) is gearing up for the holiday season and to get prepared, they have featured several special guests on the subject. Every topic from staying fit during the holidays, sweet treats to make with the kids, to beautiful holiday table settings were the focus of the show that aired on 12/4/13.
Covering the decorating tips on evergreen wreaths and table decor was celebrity florist Mr. Michael Gaffney. Founder of 8 flower design schools across the United States, Michael is definitely an expert on the subject. Michael brought several 'Oasis Foam' wreath forms as well as a 'Racquette' which is used to create large, long, fresh flower runners to top your holiday table setting. Using red roses, white hydrangea, and a variety of fresh evergreen cedar, Michael, Show Hosts Cristina Ferrare and Mark Steines, worked together to create a beautiful wreath to hang on the door of the Home and Family House located at Universal Studios, Hollywood. "These designs can be done by anyone with just a little instruction on using the pin cushion method," Michael said, while demonstrating the designs to the Hosts.
Michael is a regular guest on the show and never fails to impress with his knowledge of floral design. If you missed the show that aired on 12/4/13, you can view the episode on the Home and Family website listed under full episodes. To learn more about Michael Gaffney's flower schools, visit Michael's Los Angeles School website at: http://www.losangelesflowerdesign.com.