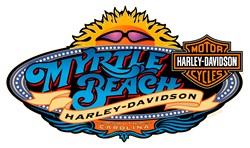 'In 2012 we helped 42 kids with Christmas,' said Nanci Conley, Executive Director of the American Red Cross. 'The Myrtle Beach H-D Toy Run is our only support with Christmas and we anticipate the need this year to more than double.'
Myrtle Beach, SC (PRWEB) December 05, 2013
The 4th Annual Toy Run hosted by Myrtle Beach Harley-Davidson to benefit the Coastal South Carolina Chapter of the American Red Cross, is slated for this Saturday, December 7th at the Main Dealership located at 4710 S. Kings Hwy in Myrtle Beach.
Last year's event attracted over 200 riders and collected several hundred toys as well as monetary donations that were used to provide Christmas to those along the Grand Strand community who had lost their home to fire. "In 2012 we assisted 42 children with Christmas," said Nanci Conley, Executive Director of the Coastal South Carolina Chapter of the American Red Cross. "This run is our only support with Christmas and we anticipate the need this year to more than double. To date we've worked with over 200 children who have lost their homes to fires."
Registration for the 4th Annual Toy Run at Myrtle Beach Harley-Davidson will begin at 11 a.m., Saturday, December 7th and the ride will leave at noon for Longbeards in Carolina Forest who will provide a free pig pickin' along with live Music and prizes. All vehicles are welcome to participate. Registration fees are a new, unwrapped toy or a $10 donation. "We always face a huge challenge when it comes to gifts for the 13 – 18 year olds. People think of small children when it comes to Christmas and tend to forget about the older ones so gift cards and cash help fill in the gaps," concluded Conley.
This is a rain or shine event. For complete event and donation details, visit http://www.myrtlebeachharley.com or call 843-369-5555.