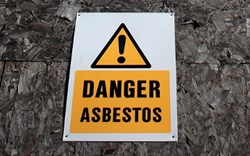 We've seen a handful of teachers that have been diagnosed with mesothelioma over the years. It is an ongoing problem, as around 90 per cent of schools still contain asbestos.
Bolton, UK (PRWEB UK) 10 December 2013
Marion Potts, who died at the age of 63, claimed she worked in different schools across the country, including Hardley School in Holbury, and Romsey School, until two years ago. (1)
As reported by the Southern Daily Echo, it is still unknown which school exposed Mrs Potts to asbestos. Education authorities have confirmed that both of the Hampshire schools were safe. (1)
According to the Southern Daily Echo, it is alleged that the only place Mrs Potts could have come in contact with asbestos was in the school walls. Southampton Coroner's Court said:
"It's certainly the first case that I have dealt with but I understand it's turning into a matter of major concern.
I hope all the necessary steps are taken in the future to ensure the elimination of this substance."
Mr Wiseman added: "Mrs Potts particularly mentioned a variety of occasions such as basic matters like putting up a display with drawing pins where this material would come out of the walls or when they were damaged by pupils.
"It looks as if Mrs Potts was very unlucky during her working life as this is the only possible asbestos exposure identified." (1)
As reported in the article, it is believed that Mrs Potts was the first teacher in the region to die of mesothelioma. However, the co-founder of Hampshire Asbestos Support and Awareness Group (HASAG), said:
"This is not the first teacher in Hampshire to get mesothelioma through exposure at school. We've seen a handful of teachers that have been diagnosed with mesothelioma over the years. It is an ongoing problem, as around 90 per cent of schools still contain asbestos." (2)
Commenting on the news, Adriano D'Ambrosio, Executive at Asons Solicitors, said that:
"Mesothelioma can lead to a slow, painful death, and it can take up to 50 years for the symptoms to show themselves."
"According to the HSE statistics, 183 teachers and lecturers died from mesothelioma between 1980 and 2000. People tend to associate asbestos exposure with the construction industry exclusively, but this story shows that such health risk is not limited to those operating in the building trade." (3)
"If Mrs Potts had been exposed to asbestos, as a result of her employment, it is unjust that measures were not taken to protect her welfare and that of pupils, who may also have been exposed to asbestos dust."
As reported by the Southern Daily Echo, Mrs Potts' husband Michael has said he is not considering legal action. He stated:
"These buildings are 50 years old and asbestos will come out because kids are always running around, banging into things and people stick things into the wall.
"She was never made aware of these dangers. That annoys me beyond belief and I intend to make a nuisance of myself as there has been a lot of complacency." (1)
Asons Solicitors have a dedicated team of industrial disease specialists, dealing with cases of asbestos related diseases; giving people legal advice, particularly in the area of mesothelioma compensation and asbestosis compensation. Exposure to asbestos can be deadly, and Asons urge anyone who feels they may have been exposed to asbestos fibres to consult their GP immediately for a consultation, and contact an industrial disease specialist for legal representation.
Asons Solicitors suggest that if someone would like to learn more about the industrial disease compensation process, or if they would like to better understand the condition, that information is available at http://www.asons.co.uk, or via an expert helpline on 01204 521 133
(1) Southern Daily Echo - Teacher Marion Potts killed by asbestos she inhaled in classrooms, 28/11/2013 dailyecho.co.uk/news/10840596.Teacher_killed_by_asbestos
(2) Southern Daily Echo - Campaigners warn more will become ill from asbestos exposure in Hampshire schools, 30/11/2013 dailyecho.co.uk/news/10846966.Schools__asbestos_timebomb__claim
(3) HSE Mesothelioma Occupation Statistics - hse.gov.uk/statistics/pdf/occ8000.pdf
About Asons Solicitors:
Asons Solicitors is a Bolton-based law practice that specialises in personal injury and industrial disease claims. Founded by brothers Imran Akram and Kamran Akram, Asons Solicitors has developed to become a young and dynamic law firm that delivers practical solutions to clients in times of difficulty. Their continued focus on their staff has seen them awarded with the Investors in People "Gold Award"; which is reflected in the professional and personable approach they take in working with clients. They strive to grow and to develop, and their supportiveness and attention to detail ensures that their clients use them time and again.
For further information contact:
Email: info(at)asons(dot)co(dot)uk
Website: http://www.asons.co.uk