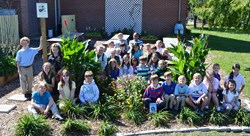 Gloucester, Va. (PRWEB) December 05, 2013
Ware Academy is pleased to announce that it was selected as one of the Virginia Naturally Schools for the 2012-2013 academic year, making it one of only 48 schools in the state to receive the recognition this year.
The school recognition program aims to highlight and celebrate the efforts undertaken by Virginia schools to increase environmental awareness and stewardship of its students.
Virginia Naturally Schools is the official environmental education school recognition program for the state of Virginia and is administered by the Department of Game and Inland Fisheries.
To earn the Virginia Naturally recognition, Ware Academy had to showcase that administrative support for conservation and environmental education programs; high quality professional development that supports integrating conservation and environmental education into the classroom; resource conservation on campus, field and hands on experiences for the students; library and equipment resources dedicated to conservation and environmental education; outdoor classrooms and community support.
Ware Academy's academic programming includes conservation and environmental learning at all grade levels, from pre-school to middle school, said Thomas L. Thomas, III, Ware Academy's Head of School.
Middle school students may sign up for the "EGG-cellent Adventures" elective to help raise the school's chickens. The course teaches students economics as they evaluate how much it costs to raise a chicken and collect eggs versus purchasing a carton at the grocery store; conservation as the students gather lunch leftovers from across the school as part of the chicken feed; and agriculture.
Each year, the eighth grade students also spend a semester on a Capstone Project that's theme is centered on water conservation. The project involves in depth research, 21st Century presentation tactics, science and more.
Teachers across grade levels utilize the greenhouse located on campus, which also houses Ware Academy's aquaponics program, which began in 2012 and expanded in 2013 following a $10,000 gift from the graduating class' parents to fund the greenhouse.
The entire school also participates in a Monarch butterfly garden, which is home to Ware Academy's rainwater barrel. The butterfly program and garden – an official Monarch Waystation Site – won a grant this year that enabled them to not only watch caterpillars grow and transform into Monarch butterflies in the gardens outside, but also in the halls and classrooms.
The grant funded the equipment and educational resources needed to build an indoor terrarium and bring monarch caterpillars into the school building, positioned in the main hall for observation. Students gain valuable experience witnessing the life cycle of a butterfly and interacting with the species during the different stages of growth.
About Ware Academy:
Located one mile from Main Street in Gloucester's historic Courthouse district on a 19-acre campus, Ware Academy is a co-ed, independent day school for students in Pre-Kindergarten 3 through eighth grade.
Ware Academy empowers each student to achieve academic excellence, emphasizing the development of mind, body and character. The primary objectives are to educate the whole child to his fullest potential and for students to acquire a respect and a desire for learning in order to develop into independent, life long learners in preparation for productive and fulfilled lives.
Founded in 1949, Ware Academy is a non-profit, non-denominational, non-sectarian school promoting ethnic and racial diversity. Ware Academy selects students on the basis of academic potential and developmental readiness without regard to race, color, creed, or ethnic origin.
Ware Academy is accredited by the Virginia Association of Independent Schools, the National Association of Independent Schools, and the Education Records Bureau and the Secondary School Admissions Test Board. Ware Academy is also a member of the National Middle School Association, the National Junior Honor Society and the Association of Supervision in Curriculum Development.
Keep in touch with Ware Academy online at http://www.wareacademy.org, on Facebook at /WareAcademy and on Twitter @WareAcademy1.