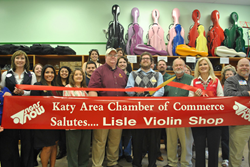 Pasadena, TX (PRWEB) December 05, 2013
Lisle Violin Shop has opened a third location in Katy, Texas.
This specialty retailer features instrument sales, rentals, accessories, repair and restoration for violins, violas, cellos, and double basses. In addition, the Katy office offers expanded sales and service to double bass players.
The new location is at 1575 W. Grand Parkway, S. Suite 400. Hours of operation are 10 a.m. to 7 p.m. Monday through Saturday. The shop features resident award-winning violin maker Mark Womack, and resident bass specialists Joey Naeger and Mitch Moehring. It offers fine instrument sales, with a special emphasis on double bass sales and repair. There are also flexible rental plans for young musicians with upgrade options for advancing players. A grand opening ceremony was held Oct. 24. Lisle also has locations in Pasadena and Houston, Texas.
Lisle Violin Shop's selection of instruments for rent and purchase is continually evolving with the current market to ensure they can offer the best quality instruments at affordable prices. They accept cash, checks, money orders, VISA, MasterCard, Discover, and American Express cards as forms of payment. They also offer payment plans with approved credit. A protection plan is available for all rentals and select instrument outfits under $1,800. They must have been purchased directly from Lisle in order to be eligible. The annual cost of the plan is $72 plus tax for violins or violas, and $120 plus tax for cellos and basses.
For more information about Lisle Violin Shop, visit http://www.violins.com, or call 281-396-4848.
About the Company:
Lisle Violin Shop is a family-owned and operated music store specializing in string instrument rentals, sales, repairs and restorations. Its staff hand-selects the highest-quality instruments and bows and offers them at the most affordable priced to ensure customers have the very best selection, whether you are a beginning student, or a professional player in search of a unique instrument. Lisle Violin Shop offers a wide variety of violin, viola, cello and bass rentals. Contact any of its locations for additional information concerning sales, rentals or repairs of violins, violas, cellos, and basses.