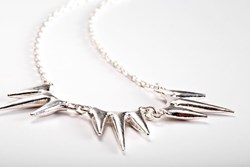 "I try to imagine every detail of the girl who may wear the piece and visualize how it could enter into her life and assimilate itself into her world."
New York, NY (PRWEB) December 09, 2013
Hatch Jewelry launches this week at http://www.hatchjewelry.com with the aim to level the playing field for jewelry designers to a talent-based system. Hatch Jewelry was created to give design enthusiasts and jewelry lovers the opportunity to shop exclusive curated collections from contemporary jewelry designers while contributing to the design process. At Hatch Jewelry, a community of design enthusiasts can provide feedback on items, see behind the scenes videos and clips of featured designers, share their 'can't live without' jewelry items, and enter design challenges for the chance to be featured on Hatch Jewelry.
Founder of Hatch Jewelry, Matthew Sargeant, built Hatch Jewelry and sister site, Hatch Hub, with the aim of creating small quantities of exceptional, exclusive pieces that otherwise may never have the chance to be realized. With the help of Hatch Jewelry's Design Director, Linnea Olson-Schwartz, who brings 16 years of experience as an accessories editor to the team, Hatch Jewelry specializes in finding undiscovered design talent to showcase, promote and sell. Curating exclusive collections from jewelry designers such as Susan Domelsmith, Geoffrey Good, Judi Powers, Jaclyn Mayer, Christine Huber, and Joanna Bengoa, Linnea focuses on "unique and personable jewelry that evoke excitement and inspires the wearer." She continues, "I try to imagine every detail of the girl who may wear the piece and visualize how it could enter into her life and assimilate itself into her world."
Up and coming designers and students can participate in Hatch Jewelry's current design challenges, "Bronze It Up," a 3d printing challenge using matte bronze steel, and "Spring 2014," an invite to design a capsule collection of jewelry that reflects the resurgence and energy of Spring. Matthew explains, "These challenges allow anybody, regardless of their tenure in the industry, to have a platform to sell their showcase and sell their work. It's an opportunity that is hard to come by these days and we're excited to see the talent we will discover at Hatch Jewelry." To submit a design or enter a challenge, you can visit: jewelry.hatchhub.com/participate/design.
About Hatch Jewelry:
Hatch Jewelry was created out of passion for exceptional design. Working with established and emerging independent jewelry designers, Hatch Jewelry is removing archaic barriers and creating a platform to showcase talent in a new and progressive marketplace. More than just a shopping destination, Hatch Jewelry is a place to connect, learn and participate in the process of bringing unique, contemporary jewelry to market. http://www.hatchjewelry.com