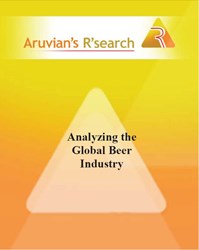 Rockville, MD (PRWEB) December 10, 2013
Analyzing the Global Beer Industry
Beer is the most widely consumed alcoholic beverage in the world and also the third most popular beverage after water and tea. The global beer market is being driven by the growth in developing markets. Due to the rise in disposable incomes worldwide and particularly in developing economies, the per capita alcohol consumption has also been rising steadily over the years. Industry consolidation has been a marked trend in the global beer industry and this research report looks at the trends of industry globalization and consolidation in the global beer industry.
Aruvian Research presents an analysis of the Global Beer Industry in its research report Analyzing the Global Beer Industry. The report analyzes the global beer industry through an industry definition, industry overview, the market for premium beer, industry analysis through market value and market volume, industry segmentation, etc. We also analyze the major distribution channels used for the retail of beer, the global beer trade, market share analysis and an industry forecast to 2017.
To order this report:
Analyzing the Global Beer Industry
Contact: Shauna
800.298.5699
Customerservice(at)marketresearch(dot)com
Aruvian's R'search
Aruvian's R'search is an India-based consulting organization engaged in bi-vertical businesses of consulting and research. We specialize in providing research and consulting solutions for a diverse multitude of industries and handle client portfolios from the world markets.
About MarketResearch.com
MarketResearch.com is the leading provider of global market intelligence products and services. With research reports from more than 720 top consulting and advisory firms, MarketResearch.com offers instant online access to the world's most extensive database of expert insights on global industries, companies, products, and trends. Moreover, MarketResearch.com's Research Specialists have in-depth knowledge of the publishers and the various types of reports in their respective industries and are ready to provide research assistance.
Follow us on Facebook http://www.facebook.com/marketresearchdotcom
Follow us on Twitter http://www.twitter.com/marketresearch_
Analyzing the Global Beer Industry – Table of Contents:
A. Executive Summary
B. Industry Definition
C. Global Beer Industry
D. Drivers for the Global Brewing Industry
E. Industry Trends & Challenges
E.1 Overview
E.2 Use of Complex Distribution Systems
E.3 Changes towards Healthier Lifestyle
E.4 Fierce Competition
E.5 Retailers versus Beer Companies
E.6 Industry Globalization & Consolidation
F. Global Beer Industry: Porter's Five Forces Framework Analysis
G. Analysis of Key Markets
H. Industry Consolidation & Competitive Landscape
I. Major Industry Players