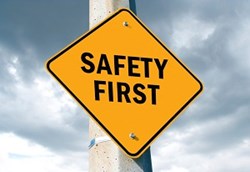 Workers should not be injured trying to fix a problem. Having an effective guard on this part of the machine would have prevented this employee from suffering nasty injuries to his hand.
Bolton, UK (PRWEB UK) 11 December 2013
The company was prosecuted by Leicester Magistrates' Court (Case Reference T20130639) on Friday 28h November, after the Health and Safety Executive (HSE) identified safety failings with the method of work. (1)
On the day of the incident, the victim - a 37-year-old man, who has preferred to remain anonymous – was working on a paper converting machine, when his hand got trapped while trying to clear a blockage.
As reported by the press release, the worker placed his hand into to converting machine to remove the tissue blockage on the belt of the conveyor. Consequently, the hand got trapped, and the tips of two fingers had to be amputated following the injury.
An investigation by Health and Safety Executive, revealed that no safety guards were in place to protect workers from the dangerous moving parts of the machine. (1) According to the HSE, the worker returned to work after three months on light duties, and resumed normal duties after five months.
Commenting on the news, Adriano D'Ambrosio, Executive at Asons Solicitors said:
"The firm allowed the paper converting machine to operate without being properly guarded, which ultimately led to a worker experiencing a life-changing injury.
"This was an entirely preventable injury, caused by disregard for basic safety rules. It is alleged, that they failed to put a formal safe system of work in place, for the machine clearing task.
"Any health and safety compensation awarded, as a result of this accident at work, cannot undo the damage caused. Again, this accident could easily have been avoided, had appropriate health and safety measures been followed. In this case, they were not."
Speaking after the hearing, HSE inspector Richenda Dixon said:
"This incident highlights the dangers posed by machinery and the need to fully re-assess risks from machinery when it is moved from one site to another.
"The company failed to provide suitable guarding and did not take effective measures to prevent access by their workers to the dangerous moving parts.
"Workers should not be injured trying to fix a problem. Having an effective guard on this part of the machine would have prevented this employee from suffering nasty injuries to his hand."
The company was fined £2,000, and ordered to pay prosecution costs of £712, after they pleaded guilty to a single breach of the Provision and Use of Work Equipment Regulations 1998. (1)
Asons Solicitors have a wealth of experience in dealing with machinery injuries cases, and through their work they have been exposed to a variety of working practices, which endanger the health and safety of employees on a regular basis.
Asons Solicitors suggest, that if someone would like to learn more about the consequences of an accident at work, or if they would like to better understand the Personal Injury Claims process, that such information is available at http://www.asons.co.uk, or via an expert helpline on 01204 521 133.
(1) HSE, 28th November 2013 press.hse.gov.uk/2013/tissue-maker-fined-after-worker-has-fingers-amputated/
-ENDS-
About Asons Solicitors:
Asons Solicitors is a Bolton-based law practice that specialises in personal injury and industrial disease claims. Founded by brothers Imran Akram and Kamran Akram, Asons Solicitors has developed to become a young and dynamic law firm that delivers practical solutions to clients in times of difficulty. Their continued focus on their staff has seen them awarded with the Investors in People "Gold Award"; which is reflected in the professional and personable approach they take in working with clients. They strive to grow and to develop, and their supportiveness and attention to detail ensures that their clients use them time and again.
For further information contact:
Email: info(at)asons(dot)co.uk
Website: http://www.asons.co.uk