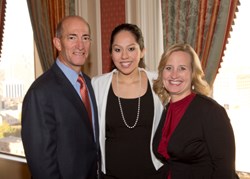 Fort Worth, TX (PRWEB) December 05, 2013
On Wednesday, November 13, Mayra Ledesma Tavera, an Apex Capital Corp employee and a 2010 graduate of Amon Carter Riverside High School in Fort Worth, Texas, spoke at a Junior Achievement fundraiser, where she shared her story with 280 business professionals about how Junior Achievement touched her life and made a difference in her career path.
Opportunity knocked in 2010, during Tavera's senior year of high school when she met Dean Tetirick, Vice President at Apex Capital Corp and a Junior Achievement volunteer. Tetirick was a volunteer in her classroom as part of his involvement in Junior Achievement. After working with the students, Tetirick encouraged them to apply for any open positions at Apex Capital Corp.
With the encouragement of her teacher, Kristy Peden Lessner, Tavera applied for an open position in the mail room and received the job. With this foundation, Tavera worked her way up and three years later, she is an auditor at Apex Capital Corp and is working towards her college degree.
During her speech, Tavera called JA "a blessing" and because of her inspiring speech, the fundraiser was able to raise $131,509, well over Junior Achievement's goal of $75,000. This money will go directly to sustaining Junior Achievement programs in the classroom, so more students like Tavera will have a chance to reach their full potential.
Apex Capital Corp is a proud sponsor of Junior Achievement and stories like Mayra Tavera's are powerful examples of how Junior Achievement volunteers and programs make a difference to so many students. Apex Capital Corp supports and encourages employee involvement in Junior Achievement in the classroom each semester and participates in several JA fundraisers throughout the year.
During the 2012-2013 school year, 1,500 volunteers impacted the lives of 30,582 students in the Greater Tarrant County area, an increase of 1,563 students in one year.