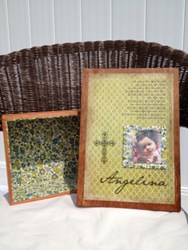 No matter what time of year, those gone before us are always missed, loved and remembered.
Manchester, NJ (PRWEB) December 10, 2013
Losing a loved one is always a tragedy, no matter what age. How does one keep their memory alive during not only the holidays, but the whole year?
Somewhere Over the Rainbow LLC (SOTR) was born from the tragic loss of a stillborn baby girl. The shop began on Etsy creating memorial items to honor and help those affected by pregnancy and infant loss. Now an official LLC, they continue their mission to spread hope and love in remembrance of those both young and old.
SOTR offers many unique remembrance items for grieving families. There are handmade memory boxes, plaques, ornaments and candle holders. Not only is one honoring someone they love through their purchase, but also helping others honor their own loved ones. Proceeds from memorial items go towards gifting those on similar grief journeys.
"I didn't know where to go in my grief when I first lost my daughter Hannah. I was stunned, shocked, blind-sided. I began crafting and gifting. I began selling those items to continue and support gifting. It has grown way beyond my wildest dreams," states business owner Katy Larsen.
Lighting a candle loving etched with your child's name. Putting letters into a handmade wooden memory box graced with your mother's photo. Walking past that plaque hung ever-so-carefully in the foyer. Remembrance.
Remembrance and Hope.
"I like to purchase a Christmas card for my daughter each year and fill it out on Christmas Eve. I tell her all of the amazing things her life has done each year. This year I will have so much to write," Katy said.
This year Katy compiled and narrated a book documenting the journeys of 64 families as they made their way from loss towards hope. It is entitled "Because They Lived."
"We have been able to gift so many and share our stories and have our voices heard. There were over 700 downloads during the Kindle FREE Promotion. It is touching lives. These lives will not be forgotten.....because they lived."
No matter what time of year, those gone before us are always missed, loved and remembered. Holiday traditions and celebrations can cause a sting when one feels their absence, but there are many beautiful ways to remember those gone before us all year long.
Because They Lived.