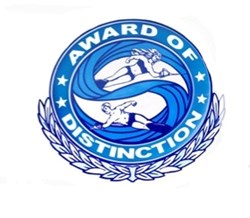 Polk City, FL (PRWEB) December 05, 2013
The American Water Ski Educational Foundation's Hall of Fame Selection Committee is proud to announce the 2014 Award of Distinction recipients.
Dave Goode, Charlotte Melchers, Sherm Schraft, Mike Botti and Danny Churchill will be honored at the AWSEF Water Ski Hall of Fame Induction Ceremonies set to take place on April 12th at Fantasy of Flight in Polk City, FL along with Hall of Fame Inductee Cheryl Orloff.
Goode, the founder and president of Goode Ski Technologies, has been passionate about the sport of waterskiing since age 5. Over the years his broad support of 3 event water skiing as a world class competitor, official, tournament host & organizer, sponsor and cutting edge industry innovator has made him a household name in the world of water skiing. Dave is recognized as a pioneer who has advanced the sport of waterskiing throughout the world with his revolutionary carbon fiber water ski equipment- of which he holds dozens of U.S. Patents. He is also a highly respected ski set up technician and shares his knowledge and experience with many top athletes and coaches. Dave currently sponsors several top ranked World Class pro water ski athletes, junior athletes and Masters athletes. Dave has been a sponsor at the US Nationals for over 20 years and has been the title sponsor of the GOODE Water Ski Championships for over a decade.
Melchers began her dedicated service to the sport in the 1970's teaching young adults and children to ski. Over the next four decades, she worked tirelessly to promote the sport throughout the world -putting South Florida on the map as a premier area for water-skiing. Charlotte served as an AWSA national director from 1989-1995. She has served multiple times as chief judge of the Southern Regional Water Ski Championships, Water Ski National Championships and the Masters Water Ski Tournament. Under Melcher's leadership, the Ski Club of the Palm Beaches (and Okeeheelee Park) has hosted 13 Water Ski National Championships, five Southern Regional Water Ski Championships, two Florida State Water Ski Championships and the 1989 Water Ski World Championships. Charlotte has organized and worked many clinics for skiers, juniors, handicap skiers and officials and is a senior judge, a senior scorer, and a Pan Am judge.
Schraft, a USA Water Ski member since 1970, is an American Water Ski Association Senior Judge and Senior Scorer. He has worked as an appointed judge and Chief Judge at the Water Ski World Championships, Junior Water Ski World Championships, Pan American Water Ski Championships, Water Ski National Championships, U.S. Open, Masters, and Junior U.S. Open. He has also officiated many tournaments for the Water Skiers with Disabilities Association, National Collegiate Water Ski Association, Cable Water Ski and National Show Ski Association. His volunteer experience to the sport has been varied and extensive for more than 20 years. He has served on many committees and boards over the past two decades for the International Waterski & Wakeboard Federation, AWSEF, USA Water Ski, American Water Ski Association, and Florida Water Ski Federation. He served has as President of the American Water Ski Association in 1998-99 and USA Water Ski from 2001 to 2007.
Botti is credited with advancing barefoot water skiing skills toward toe of the Australians in the 1970's. He pioneered the upright stance for surface turns and is credited with being the first in the world to do wake turns, a 360 and a ½ wrap. He is credited as the first in the United States to do back one-foot wake slalom, back one-foot deep-water start, all four surface turns, and all four wake turns. Mike regularly demonstrated his skills before thousands of spectators in daily ski shows at Sea World and Cypress Gardens and was chosen to do barefoot exhibitions at major water ski events such as The Masters, The Austin Aqua Festival, The Cal Cup and the Liz Allen Superstars. During the first US National Barefoot Tournament held in 1978, Mike dominated Starts, Tricks and Wake Slalom and the first US Records for those three events. His innovative upright style laid the foundation for the next generation of American barefooters - who later dominated the world of international barefoot competition.
Churchill, an innovator in the sport of kneeboarding, bought Glide Slide in the wake of the 1973 oil crisis. He redesigned the Glide Slide to make it more stable and renamed the product Hydroslide in 1976. He is most commonly known for popularizing kneeboarding through advertising and promotions in the then newly release full color water ski publications of the late 1970's and early 1980's.
This award was created to recognize individuals who have made extraordinary contributions to our sport. They may include tournament skiers, innovators, industry leaders, officials, and others responsible for landmark achievements in the development of water skiing as well as those whose long periods of dedicated and generous service deserve recognition. For eligibility requirements and more information, visit the official Web site of the American Water Ski Educational Foundation at http://www.waterskihalloffame.com.