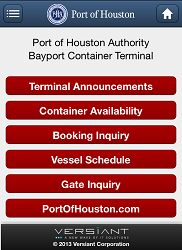 Charlotte, NC (PRWEB) December 05, 2013
Versiant, a global maritime IT services company, recently made waves by deploying their revolutionary Lynx™ mobile software solution to the Port of Houston Authority (PHA).
Leveraging this exclusive technology, Lynx provides PHA with real-time accurate information for their customers at Barbours Cut and Bayport Terminals. Customers are now able to verify container availability, view vessel schedules, review bookings and retrieve gate EIRs prior to arriving at the terminal, with an intuitive user interface, simply by using virtually any mobile device.
The fully configurable Lynx software platform is also designed to communicate with multiple Terminal Operating Systems. In this case, the Port of Houston Authority integrated Lynx with Navis Express and Navis SPARCS N4.
Business Inquiries

Terminal Announcements – Displays all important terminal announcements
Check Container Availability – Provides you with real-time import container release status to ensure pickup availability
Booking Inquiry – This feature provides a summary of the booking details
View Vessel Schedule – This feature displays vessel schedules and associated cutoff dates for vessels calling the terminal
Gate Transaction Inquiry – Provides the ability to retrieve EIR details for an associated gate transaction
Terminal Information – Provides the terminal address, phone number and integrates with Google Maps for directions.
About Lynx Mobile Customer Access Solution:
The LynxMCA™ solution is a highly configurable software platform that integrates seamlessly into the terminal operating system to provide users with accurate and real-time data. This software has proven successful with the Navis Express and N4 environments, but can be adapted to any Terminal Operating System. A rich user interface, using HTML5 for supported mobile devices, provides the external users with an "app" design and is easily maintained. The LynxMCA app has been optimized to work with all mobile smart phones and tablets.
A true "plug & play" web solution designed to transform data sharing across the mobile device platform that will enhance customer satisfaction for terminal operators. To learn more about the powerful LynxMCA software, please email info(at)Versiant\(dot)com.
About Versiant:
Founded in 2008, Versiant's proven capabilities integrating Terminal Operating Systems with ancillary applications and business process requirements optimizes Terminal Operations and streamlines Customer Interaction.
Versiant has the knowledge, expertise and background in marine terminal operations to negotiate the increasingly complex and ever changing information technology marketplace.
Versiant improves terminal business performance through the development and deployment of effective technology and proven solutions geared to specifically meet terminal operator's needs.
With over 30 years of experience within the marine terminal industry, Versiant's terminal operating system (TOS) support and integration team possesses the tools and skills to support any operational process.
Versiant offers a wide range of solutions with complete product installation and commissioning, anywhere on the globe
http://www.Versiant.com