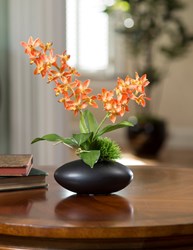 Springtime and flowers go hand-in-hand. Our permanent botanical designs make decorating with floral accents so easy and affordable.
White Plains, NY (PRWEB) December 07, 2013
Silkflowers.com, the nation's leading provider of designer-quality faux botanicals, is pleased to announce fabulous new floral designs, plants and trees for this spring to enhance any interior décor.
"Springtime and flowers go hand-in-hand. Our permanent botanical designs make decorating with floral accents so easy and affordable," Tim Hennessy, co-founder of Silkflowers.com, said. "Not only are fresh cut flowers expensive but they last a mere seven days at best. Not to mention the attention they require: cutting stems, cleaning up fallen leaves and petals, changing cloudy water. Silk botanicals are maintenance free and last for years. Display them seasonally or year-round."
New and noteworthy within Silkflowers.com's Spring 2014 collection include: The Abundant Garden Centerpiece ($279), a striking arrangement of garden favorites in a voluminous glass stemmed vase; the Cat's Tail Orchid ($35), a versatile, eye-catching orchid plant in an oval ceramic vase; the sweet, simplistic Baby's Breath Accent ($69) in a glass ball vase; and the cheerful Crazy Daisy ($89), a vibrant, happy mix of Gerbera and traditional daisies.
Additionally, the company is proud to add the exotic ZZ Plant in two sizes (Zamioculcas Zamiifolia; $89 and $169) to its extensive line of greenery. The up and coming star of interior plantscaping, the ZZ Plant's emerald fronds are unique to the eye and impressive as a stand-alone accent or in groupings.
Returning favorites include a wonderful variety of classic rose accents, ideal gifts for Valentine's Day, (a clear glass vase of two open buds for $35) available in seven colors; luscious tulip nosegay centerpieces in four garden fresh colors ($115); a beautiful line of hydrangea accents and centerpieces ranging from $49 to $239; and the Succulent Planter, a rectangular ceramic dish full of favorites such as aloe, jade, echeveria and sedum ($149).
"Silk florals make great Mother's Day gifts, too," Hennessy added. "Why give Mom fresh cut flowers that will last only a week or a plant that will require continual maintenance? Instead, surprise her with a quality faux creation that will last for years as a constant reminder of your love. "
Gifts purchased from Silkflowers.com are shipped directly to the recipient's doorstep. They are expertly packaged to arrive in perfect shape for easy display right out of the box. And unlike live flowers and plants, silk botanicals won't freeze or wilt due to extreme temperatures if left on a doorstep by a delivery person. A stylish gift card that may be personalized with a message of choice is also included.
For more information and high resolution photography, visit http://www.silkflowers.com/pressroom. The company has an informative and fun blog, http://blog.silkflowers.com/, and is on Facebook and Twitter.
Silkflowers.com is the nation's largest supplier of designer-quality silk botanicals, including floral arrangements, decorative stems, plants and trees. The company proudly offers the widest selection and inventory of beautifully designed silk creations at affordable prices, delivered directly to consumers with utmost care. Silkflowers.com's sister company, OfficeScapesDirect (http://www.officescapesdirect.com), serves the commercial market in the same manner, offering the widest selection anywhere of designer-quality silk botanicals for business interiors and commercial spaces. Both companies are located in Cincinnati, Ohio, and White Plains, N.Y.