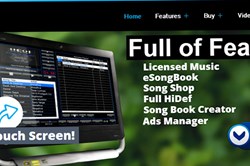 The Karaoke Kiosk in HD is encrypted to protect my investment and also allows me to add karaoke songs I already own. - KJ Host
Hilliard, Ohio (PRWEB) December 07, 2013
Clean. Crisp. Modern.
Today, All Star Karaoke is proud to announce that The Karaoke Kiosk in HD will bring customers the resolution that they have come to expect in digital entertainment to all their favorite on-screen lyrics. With the only fully synch-licensed HD system optimized for large beautiful picture quality in family rooms, karaoke clubs, restaurants, hotels, and more, The Karaoke Kiosk in HD is a marvel to behold.
Combining the latest in touch screen technology with elegant and intuitive design, All Star Karaoke's The Karaoke Kiosk in HD takes your inner superstar to a whole new nova!
In 1985, the karaoke industry relied on CD+G (CD Graphics) as the standard used to show synchronized text on screen with music. "We don't have the same car or the same hair we did in 1985, so why should we have the same old Karaoke?" says Rick Vogt, CEO of All Star Karaoke. "Embrace the Karaoke makeover as the days of looking at pixilated, low resolution screen lyrics are over. Say, 'Hello Gorgeous' with The Karaoke Kiosk in HD!"
Click here for a Video Comparison of CD+G and HD.
The Karaoke Kiosk in HD is also high in flavor! Classic, Family Fun, Singers Delight, and Pro Packages are just a few of the bundles offered to excite every user at every budget. Choose the one Package that fits your needs. Purchase or rent by the month and it comes with everything needed. The package can be used with any sound system and now includes a free three-month trial of the eSongBook.
eSongBook allows users to search for and select songs right from any connected device (e.g.. smartphone, tablet, PC). Don't page through a bulky paper song book when users can get what they need at the swipe of a finger. With the eSongBook, time and money will be saved and everyone is going to love how easy it is to use. Best of all, there are no apps to download or hardware to buy. The entire song library will automatically be available to be searched, selected, and queued. New songs are automatically synched!
Also built directly into the player is the "Song Shop" with a huge number of karaoke songs to choose from with new songs added weekly. Never be without the most popular or hard to find songs. Simply launch the Shop feature and scroll through the list. Newly purchased songs will automatically be synced with the eSongBook service allowing singers to be able to immediately select them. Or add new songs from existing libraries--combine HD and CD+G karaoke tracks.
The Karaoke Kiosk in HD also features fun special effects that can be played anytime. Just hit the and choose between any of the 10 effects that are ready at start up. Looking for something different to replace what you have? Just hit the edit button next to your desired effect and a list of other effects will appear. Confirm your choice and it's ready to use. Why not type in a greeting in the space under the effect and watch it replace the default scroll on the external monitors.
Ready for all these great features in one mighty product? Prepare yourself for All Star Karaoke's The Karaoke Kiosk in HD at thekaraokekiosk.com.
The Karaoke Kiosk in HD by All Star Karaoke—Be the First in Show!
(Click here for a Demonstration Video of the Karaoke Kiosk.)
For more information contact Brent Knisely, All Star Karaoke at 800-645-8401.
About All Star Karaoke:
All Star Karaoke is an industry leader in karaoke with over 22 years experience. All Star Karaoke is the licensed owner of thousands of karaoke master tracks in an ever expanding library which increases with new music every month. All Star Karaoke pioneered the introduction of Custom Karaoke, allowing consumers to choose the songs for their discs or to download only the songs they wish to purchase.